Sometime in the fourth century a man named Nicholas was elected bishop of Myra, now called Mugla in southwestern Turkey. After his death he was buried in his cathedral. These two sentences tell all that we know for sure about St. Nicholas.
Yet from ancient times Nicholas has been among the most celebrated saints. Somehow during the sixth century, a cult of Nicholas's devotees grew extensively throughout the East. And in the ninth century a fictitious biography spread his following westward to Europe. When Muslims invaded Myra in 1087, Nicholas's body was taken surreptitiously to Bari, Italy. Pope Urban II presided at the ceremony that enshrined his relics in a newly constructed church. From that time St. Nicholas has been universally venerated. For example, it is said that in the Middle Ages he was the saint most frequently depicted in art, second only to the Virgin Mary. Today this saint about whom we have so few facts durably maintains his worldwide popularity.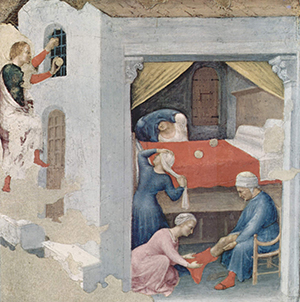 However, we all enjoy legends about St. Nicholas. All know, for example, the story of the generosity of young Nicholas to an impoverished neighbor. Here it is told by Jacob of Voragine in his famed thirteenth-century book of saints, The Golden Legend:
One of his neighbors, a nobleman, was so poor that he planned to deliver his three daughters to prostitution in order to make a living from the profits of their shame.

When Nicholas heard of this, he was horrified at the thought of such a sin. Wrapping a lump of gold in cloth, during the night he threw it through a window in his neighbor's house. Then he fled without being seen. The next morning the man found the bundle of gold. Thanking God, he immediately arranged for his eldest daughter's marriage.

A while later, St. Nicholas did the same thing a second time. Finding the gold, the neighbor broke out into great songs of praise. He determined in the future to watch and discover who was thus coming to the relief of his poverty.

A few days later a bundle of gold twice as large was thrown into his house. He heard the noise it made falling and set out in pursuit of Nicholas. He begged him to stop so he could see his face. He ran so fast that he caught up with the young man and recognized him. Throwing himself before him, he tried to kiss his feet. But Nicholas declined his thanks. He exacted a promise that the man would keep the secret of his deed until after his death.
"Threes" also play a role in other St. Nicholas legends. Nicholas is said to have personally obtained at Myra the release of three innocent men. And he miraculously appeared to the Emperor Constantine to rescue from death three falsely accused imperial officers. These latter reportedly had witnessed his intervention for the three men at Myra and had prayed for God to send Nicholas to their aid. Historians today regard as preposterous the take that Nicholas resurrected three children that an innkeeper had beheaded and pickled in brine. The story may have been started by people who mistook three bags of gold in pictures for three childrens' heads.
The legends of the three gold bundles and the three children are probably behind the tradition of giving gifts on Nicholas's feast day and at Christmas, which originated in Germany, Switzerland, and the Netherlands. Dutch settlers in the United States transformed St. Nicholas into the Santa Claus who now helps us celebrate the birth of Christ.
St. Nicholas is the patron saint of Greece, Russia, children, brides, pawnbrokers, merchants, sailors, and travelers.
---
from Voices of the Saints, by Bert Ghezzi
---
Other Articles:
Saint Nicholas: Feast Day December 6
Prayer and Poster of Saint Nicholas
---
Image credit: Nicholas threw three golden balls into the room of three poor girls by Gentile da Fabriano, 1425. Public Domain via Wikimedia.