Besides having Christ as the focal point, Nativities capture a snapshot of the life of the people in these scenes. Yet each artist interprets the scene according to his or her particular culture. For example, an American artist might depict the Nativity in a garage, with dogs and cats roaming around instead of camels and sheep. By creating Nativity scenes that reflect their cultures, these artists show us that God is truly present in our lives here and now.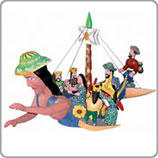 This wood carving was created by Agustín Cruz Tinoco, who was born in San Juan Oxolotepec, Oaxaca, Mexico. He is an excellent folk artist and woodcarver. Many of his creations are done in the Oaxacan style of alebrijes, which are representations of imaginary human- or animal-like creatures using vivid colors and images.
In the woodcarving "Nativity", Tinoco has created a boat-like vessel with a masthead shaped like a woman. Sitting on the prow is Mary with Jesus on her lap. She is dressed in ordinary Mexican clothing. Her husband Joseph is rowing the boat. A figure representing a shepherd stands at the end of the boat, watching over the family. On the left side are two kings and on the right is another king and an angel. The kings bring gifts of a pig, a turkey, and a rooster.
This ceramic nativity was created by Feriberto Aylas, who is from Ayacucho, Peru. Aylas specializes in ceramics and strives to keep the traditional techniques of the Andean people. In each of his creations, Aylas seeks to express the heart of Peru through depictions of the daily joys, rituals, and activities found in Andean villages.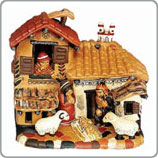 In many Nativity scenes, each person, animal, and object is created separately. This Nativity, however, is different. The whole scene is composed out of a single piece of clay. The clay is hand-shaped and prepared for firing. After it is fired, it is painted by hand with natural pigments. When the paint is dry, a clear sealant is applied.
---
If you were to design a Nativity scene that showed how God is present in your life, what would it look like?