"Are you ready for Christmas?" asked a guy I see at the train station every day. I thought of the long list of gifts I still needed to buy and the calendar crammed with holiday events and parties, and I shook my head. "Hardly," I said, and we both laughed knowingly.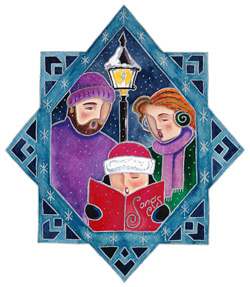 On my train ride downtown I turned off my iPod and let my mind ponder that question a little deeper. "Am I ready for Christmas?" This time I thought about the meaning of the holiday—the Son of God coming to earth to dwell among us and show us the way to eternal life. Again I shook my head and murmured to myself, "Hardly."
It was then that I vowed to take advantage of every opportunity to prepare my heart for the coming of the Christ Child into the world—the world you and I live in.
What I discovered was that if we know what we're preparing for, everything we encounter on the way to Christmas can prepare us for the coming of Christ, not only in Bethlehem 2,000 years ago but also into our homes, our families, our workplaces, and our communities. The usual December distractions can instead become holy moments when we find the Christ Child in our midst.
Having the right attitude and perspective on the season will help you and your family avoid the excesses that make certain Christmas preparations frantic, yet draining and disappointing. As theologian John Shea says, "The task seems to be the delicate one of learning to make the customs and traditions of Christmas serve the Spirit."
Take a look at some of December's demanding activities with new eyes, eyes that fully expect to find God in every moment of this season of hope.