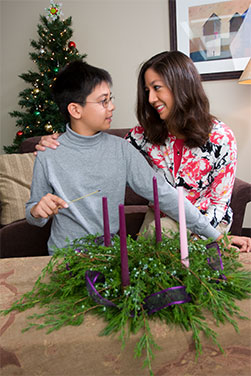 During Advent, we not only prepare ourselves to celebrate the birth of Jesus, but we also check in to see if we are doing all the things that will keep us ready to receive Jesus when he comes again. Talk to your family about how you are doing in attending to your spiritual life as a family. Recommit yourselves to praying daily, reading Scripture, and staying faithful to God's commandments. Pray together that through this Advent season your family will be more prepared to receive Jesus when he comes again.
God of Love,
Your son, Jesus, is your greatest gift to us.
He is a sign of your love.
Help us walk in that love during the weeks of Advent,
As we wait and prepare for his coming.
We pray in the name of Jesus, our Savior.
Amen.