The ornaments of the Jesse tree tell the story of God in the Old Testament, connecting the Advent season with the faithfulness of God across four thousand years of history.
We've included people and ornaments for each day during a long Advent season of 28 days. When the season is shorter, you may wish to use some of the stories from the fourth week during this week.
Sunday: David
Ornament: Shepherd's Crook or Harp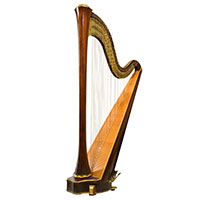 David, a Shepherd to the People
David was a great poet and a person of deep, yet flawed, spirituality. He is credited with a heartfelt song of faith in God for his continued protection (2 Samuel 22). In this song, David describes God as a rock, fortress, deliverer, shield, horn, stronghold, and refuge. God's actions in David's life are like the mighty forces of nature aiding him: breakers surge and floods overwhelm; the earth sways and shakes, trembles and quakes. David's enemies flee and are destroyed, ground into the dust and trampled. God's commitment to David will not end, though David is unfaithful in many ways. God's covenant love is steadfast and enduring.

The Young David — 1 Samuel 16-17
David and Jonathan — 1 Samuel 18
Saul and David — 1 Samuel 24; 28
David the King — 2 Samuel 5-6
David, Bathsheba, and Nathan — 2 Samuel 11-12
David's Later Years — 2 Samuel 19-24
Monday: Elijah
Ornament: Stone Altar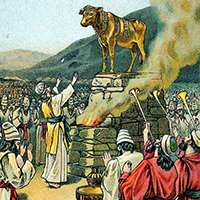 Elijah Fights the False Gods
God now calls Elijah to confront Ahab and pagan gods. He is going into enemy territory: Jezebel is killing off the prophets of Israel. In spite of the danger, Elijah is not put off. When he meets with the king, Ahab calls Elijah the "troubler of Israel." Elijah responds by challenging the priests of Baal and Asherah to a contest with the God of Israel.
Elijah is Fed by God — 1 Kings 17
Elijah Confronts Baal — 1 Kings 18
---
Tuesday: Hezekiah
Ornament: An Empty Tent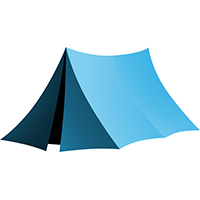 The Reign of Hezekiah
Ahaz was not faithful to God, engaging in such contemptible practices as sacrificing one of his sons in the Canaanite way (2 Kings 16:1-4). When Ahaz died, he was replaced by his surviving son, Hezekiah. Hezekiah tried to make up for his father's unfaithfulness.
Reign of Hezekiah — 2 Kings 18–19
---
Wednesday: Isaiah
Ornament: Fire Tongs with Hot Coal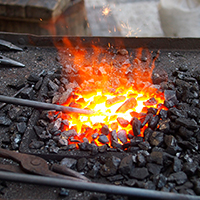 Isaiah and the Call to Holiness
In response, one of the seraphs flies to Isaiah with a live coal taken from the altar and touches his lips with it, declaring that his guilt has departed. Isaiah then hears the voice of the Lord saying, "Whom shall I send, and who will go for us?" And Isaiah replies, "Here am I; send me!" (Isaiah 6:8).
Isaiah's Vision — Isaiah 6
Isaiah's Message — Isaiah 1-2
A Savior Will Come — Isaiah 9; 11
---
Thursday: Jeremiah
Ornament: Tears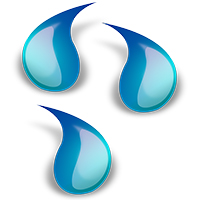 Jeremiah the Prophet
Jeremiah teaches that the people cannot pray faithfully if they continue to oppress the immigrants, the orphans, and the widows. They have to stop shedding innocent blood (some practiced human sacrifice), and they must act justly toward one another. "Here you are, trusting in deceptive words to no avail. Will you steal, murder, commit adultery, swear falsely, make offerings to Baal, and go after other gods that you have not known, and then come and stand before me in this house, which is called by my name, and say, 'We are safe!'—only to go on doing all these abominations? Has this house, which is called by my name, become a den of robbers in your sight? You know, I too am watching, says the LORD" (Jeremiah 7:8-11).
Jeremiah's Temple Sermon — Jeremiah 7; 26
Jeremiah Speaks Against Jerusalem — Jeremiah 28
Sorrow for the Fall of Judah — Lamentations 1
Jeremiah's Message of Hope — Jeremiah 29; 31
---
Friday: Habakkuk
Ornament: Stone Watchtower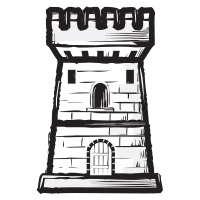 Habakkuk: Patient Waiting
Acknowledging that he does not understand God's will, Habakkuk stands ready to hear what God has planned. God assures Habakkuk that no matter what seems to be happening on the surface, God's ultimate plan for the Judeans who live in faithfulness will not be delayed. "For there is still a vision for the appointed time; it speaks of the end, and does not lie. If it seems to tarry, wait for it; it will surely come, it will not delay" (Habakkuk 2:3).
The Sack of Jerusalem and the Fall of Judah — 2 Kings 24-25
---
Saturday: Nehemiah
Ornament: City Wall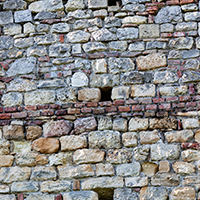 Nehemiah: Reform and Renewal
After persuading the king to let him return to Judah, Nehemiah was named governor and given permission to rebuild the walls of Jerusalem. When he arrived in Jerusalem, Nehemiah rallied the people and rebuilt or restored the walls in fifty-two days. However, he realized that the people were spiritually lax and must also be rebuilt. Ezra read the Law to the people and helped them understand its demands.
Ezra and Nehemiah — Nehemiah 8-9
---
Most of the information in this presentation is excerpted from The Stories of the Old Testament: A Catholic's Guide by Jim Campbell.
---
For a slideshow presentation of this material, visit Catechist's Journey.