My mother is 89 and still drives, a blessing. Her driving radius in suburban Maryland is only about five miles. She drives to Mass, to the grocery store, the library, the bank, the hairdresser, bridge games, the occasional Knights of Columbus party or neighborhood luncheon, the gas station.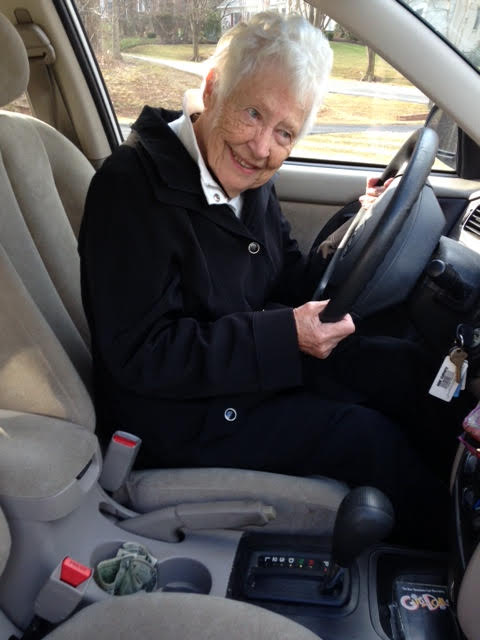 Mary Hathway, 89, found a simple way to practice
Pope Francis's call to be "islands of mercy."
For these outings she has equipped her little Hyundai with all the necessities: a handicapped parking sticker, an umbrella, recyclable bags for the grocery store, a lawn chair for grandkids' soccer games, a magnetic cross on her glove compartment for safe driving, and for the past two years, a single dollar bill in her cup holder.
I was thinking about that dollar bill recently when Pope Francis asked that for Lent we fast from indifference. And then again when he said in an address to the elderly, "Old age, in particular, is a time of grace, in which the Lord will renew His call: He calls us to preserve and transmit the faith, calls us to pray, especially to intercede; calls us to be close to those who may be in need." [italics mine]
My mother's dollar bills puts the Pope's words in action. For the past two years she gives them to panhandlers who flash their cardboard signs and coffee cans on busy intersections.
I asked her how she got started on this practice, and she said, "I used to see them begging and I'd think 'Why don't they get a job?'—because some of them looked pretty healthy." Then she heard a priest on a Catholic station say that many of the panhandlers suffer from mental illness or addictions and can't work. The priest said one thing in particular that made an impression on her. "You have much more than they have," he said. "They don't like to stand out there and beg." My mother thought about it—"I could see that they wouldn't like to," she told me—and decided to act on her change of heart.
---
"I think about how my mother, through the
presence of the panhandler, has also been given
something: the gift of God's grace."
---
It's a small but beautiful ministry. When she rolls down her window to hand over a dollar, her brief conversation with the panhandler becomes a prayer, simple and profound. "God bless you!" one says. "God bless you, too," says the other.
I think about how for that moment at least, those who are forgotten, avoided, despised, judged, and suffering can feel they have been seen—seen as part of the human family; seen as a brother or sister to the more fortunate ones driving in cars; seen as a beloved child of God. I think about how my mother, through the presence of the panhandler, has also been given something: the gift of God's grace.
I've started keeping money in my own cup holder. There aren't as many homeless in my protected little township north of Detroit as there are in the suburbs of Washington, D.C., but once a week or so I'll come across one on busy Woodward Avenue. I've also packed a bag of granola bars to hand out.
At the beginning of the Lenten season, Pope Francis said, "Dear brothers and sisters, how greatly I desire that all those places where the Church is present, especially our parishes and our communities, may become islands of mercy in the midst of the sea of indifference!"
For these last few weeks before Easter, consider turning your car into an island of mercy. Keep a dollar in your cup holder for those who ask. Wave, smile, give a blessing. And as you drive away, say a prayer for the one who is left behind.
If your street corners are empty of men and women begging for help, the dollar will serve as a reminder that the needy are with us, whether we see them or not.