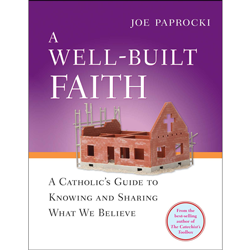 The Catechism of the Catholic Church is over nine hundred pages long, so it comes as no surprise that many Catholics think of their faith as complex—and certainly too complex to share with others! A Well-Built Faith—cleverly developed around a construction theme—makes it easy and flat-out fun for any Catholic to know what they believe and to feel confident in sharing those beliefs with others.
The eighteen-chapter book—at times profound, at times humorous, always practical—follows the structure of the four pillars of the Catechism of the Catholic Church (Creed, Sacraments, Morality, and Prayer). Taking otherwise difficult topics about the Catholic faith and making them accessible and relevant to the lives of average Catholics, acclaimed author and teacher Joe Paprocki does so in a way that never compromises the rich depth of Catholic teaching and tradition.
From the Trinity to the seven sacraments, from the Ten Commandments to the Lord's Prayer, A Well-Built Faith will help Catholics nail down the facts of the faith and tear down the barriers keeping them from sharing their beliefs with others.

| | |
| --- | --- |
| | Joe Paprocki is national consultant for faith formation at Loyola Press. He has 30 years of experience teaching at many different levels and continues to serve as a catechist. Paprocki is a popular speaker and the author of many books, including The Catechist's Toolbox and Practice Makes Catholic. |
Extras for Your Parish
• Downloadable discussion guide
• Facilitator guide
• Advertising flyer: color
• Advertising flyer: black & white
• Bulletin announcements
• End-of-Mass announcements