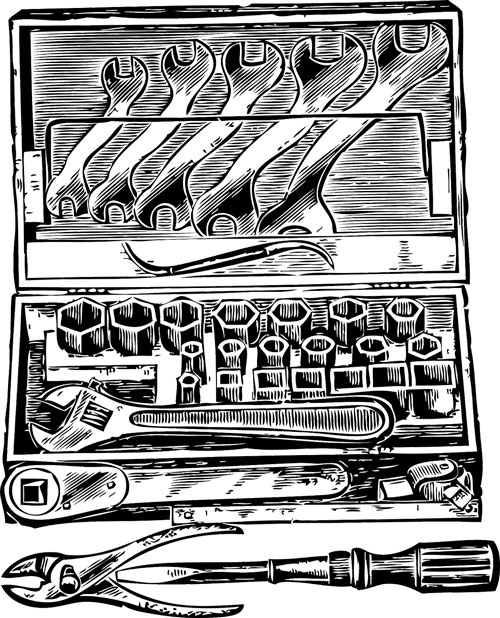 I know it's wrong to covet, but I must admit to a vice that I have: I covet certain socket wrench sets—the ones with over 150 different sizes of sockets. Whenever I get the sale ads for the hardware/home improvement megastores, I drool over these shiny collections of sockets. It's amazing how handy these sets can be. When assembling or repairing anything with nuts and bolts, one can encounter a myriad of sizes and shapes. With a vast array of sockets on hand, you can find one that fits perfectly so that you can get the job done.
Planning Activities That Fit
As part of your planning and preparation, you will ultimately determine an action plan (a format in which your lesson will be experienced). You may find yourself selecting one of the following: lecture, role-play, debate, poster work, group work, discussion, guest speaker, reading the text, or quiz game. How do you know which one to pick? Will the method of activity you choose fit with your learning outcomes? Like finding the right size socket, you need to determine if the activity you have chosen is a good fit both for your lesson and for your particular group of participants. We need to not only alter our activities for variety but also make sure that what we have chosen is the best vehicle for achieving our learning outcomes. It is also important that we modify our activities so that they are appropriate for the particular age group we are teaching.
Step-by-Step Instructions for Making Sure Your Activities Fit
1. Review Your Learning Outcomes
If you know your learning outcomes well, you will have a good idea of the type of activity you should choose. If the learning outcomes call for the participants to express or articulate an understanding of a certain topic, then you know you need to do something other than lecture if you are to accurately assess their ability to express or articulate. If the lesson calls for an understanding of community, it should be obvious to you that some type of group work would be appropriate. Common sense will often dictate which vehicle you must choose.
2. Review the Age, Gender, and Spiritual Maturity of Your Group
Visualize your group and imagine yourself delivering the lesson you've planned. Ask yourself if they are capable of being engaged with this approach. Perhaps they are not mature enough. On the other hand, maybe they are more sophisticated than the activity you've chosen.
3. Consult a List of Possible Learning Activities
If you have 150 sockets in your tool kit, you'll most likely find one that fits the job at hand. As a catechist, you also have a wide range and variety of activities to select from. Don't get caught in a rut of doing the same thing every time you teach. The next chapter [of The Catechist's Toolbox] provides a list of various learning activities and discusses what is involved in making them work properly.
4. Select an Appropriate Activity and See if It Fits
Once you select an activity to use, add it into your lesson plan and see if it connects with your introduction and conclusion. Ask yourself if this activity will help your learners to achieve the learning outcomes you have set for them. Likewise, ask yourself how this activity will help you to observe and assess those desired outcomes. If you are prepared to go with a particular activity, be sure you are prepared with all of the materials you may need to implement it.
5. Select an Alternate Activity
As always, be prepared to switch gears if need be. If your selected activity is failing or just doesn't fit, be prepared with another as a backup. A good example of this is the catechist who is all set to show a video only to discover that the DVD player doesn't work or couldn't be obtained that particular day or time. Always be ready to move on to an alternate plan of action.
Learning activities are not just something for your participants to do—they are accomplishments to be achieved. Learning activities are strategies. When selecting a learning activity, you're not thinking so much about what learners are to do at the beginning of the activity but of what they are to accomplish or achieve at the end of the activity. Simply put, you tell your learners what you would like for them to accomplish and then give them strategies for doing so.
Troubleshooting
If you find yourself in a teaching rut, consult a list of various teaching activities (as found in the next chapter) and try some on for size. You may be suffering from a simple case of monotony.
If an activity you have chosen is not working or is inappropriate, examine why. Look at the age appropriateness of your selection and examine the spiritual and emotional maturity of your participants.
Employing a variety of activities in your lessons requires more preparation but results in more effective catechesis, a more relaxed catechist, more highly engaged participants, better discipline, and increased spontaneity on your part.
---
For an opportunity to companion with other catechists and to nourish our vocation, visit catechistsjourney.loyolapress.com.