Photo courtesy of Lucy Lean of LadlesandJellyspoons.com and author of Made in America.
Thursday afternoon in early summer, 91-year old Leah Chase, New Orleans institution and "Queen of Creole Cuisine," is sitting down after the lunch hour at her restaurant, Dooky Chase. Her knees ache, but she's not complaining. Someone's brought her a bottle of holy water that she's going to use to bless herself. Bad knees or not, she says with a warm laugh, "I just keep going on."
That combination of faith and hard work has been Mrs. Chase's hallmark since she started working at Dooky's more than 60 years ago. If the restaurant is open, she and her husband of 68 years, Edgar Dooky Chase, Jr., are in the house. She puts the first pot on the stove by 8 a.m. and later greets customers for lunch and the once-a-week dinner service.
The secret to her stamina? "I pray every morning," she says. "I tell God, You gotta help me. And when I get home, I say, thank you."
Her faith life goes back to childhood, to her Catholic father's three rules for good living. "When you get up in the morning," he told her, "you pray, you work, and you do for others." She's followed that credo her whole life. "You can't go wrong with that," says Chase.
---
"I ask Jesus to take that [aching] as a prayer," she says.
"And my work becomes my prayer."
---
Her food life had a later start. As the oldest of 11 children, Mrs. Chase didn't like cooking and left those duties to her next-youngest sister. But after graduating from an all-girls Catholic high school in New Orleans, she started working as a waitress in the French Quarter and fell in love with food and feeding people. The world of white tablecloths, elegant food, and trained wait staff was new and exciting to her. At the time, sit-down restaurants weren't open to African Americans. Mrs. Chase wanted to bring fine dining to her own community. When her children turned school-age, she began working at Dooky Chase, her in-laws' restaurant, a bar and sandwich shop in the Treme neighborhood of New Orleans. Mrs. Chase made gradual changes at Dooky's, introducing more Creole dishes, redecorating, and training the wait staff in full service.
Over the years, she's created a landmark with her brand of Creole cooking—her famous fried chicken, crunchy and nearly greaseless; her red beans and rice; her once-a-year "Gumbo Z'herbes" served on Holy Thursday; and her bountiful lunch buffet (Click here for her Creole Gumbo recipe). Dooky's became equally famous as a place for the who's who of the art, music, and political worlds to meet for great food and warm hospitality. Among those served at Dooky's include Cab Calloway, Duke Ellington, Lena Horne, Count Basie, Sarah Vaughn, and more recently Bill Cosby, Quincy Jones, and Presidents George W. Bush and Barack Obama.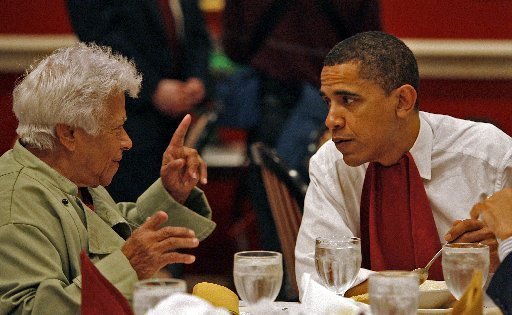 During the civil rights era, meeting up at Dooky's meant much more than just having a good time. National and local civil rights leaders—Rev. Martin Luther King Jr., Rev. A.L. Davis, Thurgood Marshall, among others—would meet in an upstairs rooms at Dooky's to work out plans for voter registration, sit-ins, and civil disobedience. Because the restaurant was one place in the city where blacks and whites could meet together without being hassled by the police, the Freedom Riders always stopped at Dooky's to eat gumbo and strategize. Nothing could stop the Chases from feeding the movement: not threatening letters, not a pipe bomb, and not arrests. When the Freedom Riders were arrested one Easter Sunday, Mrs. Chase simply brought her gumbo to the jail.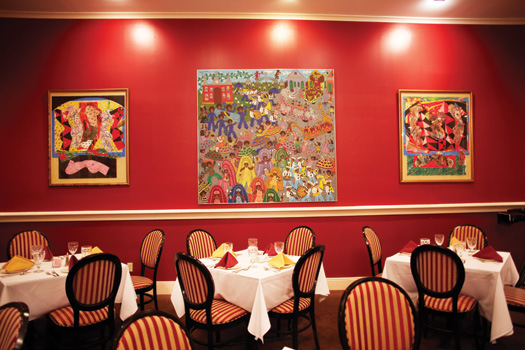 Today the restaurant still shows her commitment to helping the African American community. The walls are decorated with her collection of African-American art, which she began as a way to give exposure to artists trying to get a start. Her extensive collection is considered one of the best in New Orleans.
Signs of her faith decorate the restaurant as well. Above the kitchen doorway is an assortment of crucifixes that a regular customer brings back from his travels for her. A birthday blessing from Pope Benedict hangs on the wall, above another birthday greeting from President and Mrs. Obama. Soon to be displayed are a statue of New Orleans' patron saint, Our Lady of Prompt Succor, and a framed picture of Pope Francis, a gift from a friend who's a nun.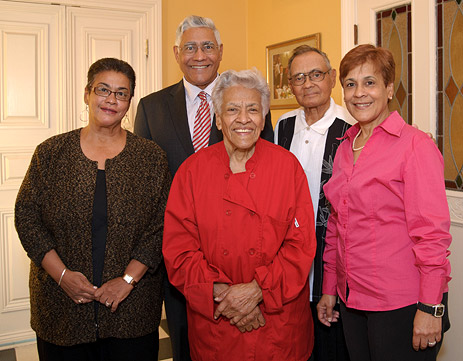 Dooky Chase has been a family affair since it opened in 1941 and remains one today. At least six members of her extended family are working in the restaurant every day it is open, and more come in to help with the Friday night dinners. With her four children, 16 grandchildren, and 23 great-grandchildren, there's surely enough family to take over if she wanted to retire. But she has no intention of slowing down. "I come in because I like to see people," she says. "As you get older, you realize how important people are."
And serving people, body and soul, has been Mrs. Chase's lifelong mission. Recently a priest helped her connect her work life to her faith life. When she told him she was afraid to die, he assured her that she had no need to be: She was doing everything God wanted her to do. "You're cooking," he explained, "and Jesus loved to eat."
"I had never thought about that before," says Mrs. Chase. "But everywhere Jesus went, he told the disciples, feed the people."
"In your daily work," continues Mrs. Chase, "you're praying. You're doing God's work." When her body starts aching from long hours in the kitchen, she thinks about how her cooking is going to make someone happy. "I ask Jesus to take that [aching] as a prayer," she says. "And my work becomes my prayer."
---
Chef Leah Chase's Creole Gumbo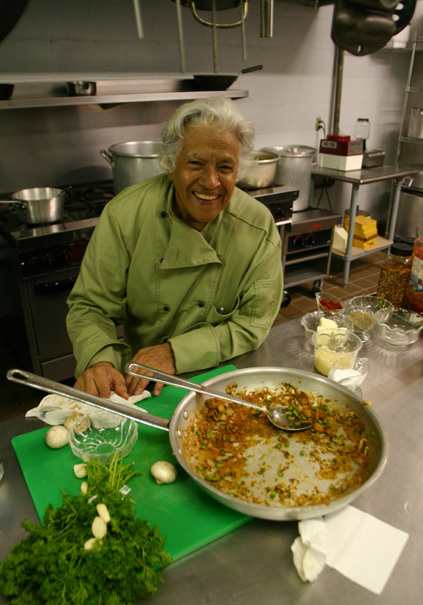 4 hard-shell crabs, cleaned
1/2 lb. Creole hot sausage (cut in bite-size pieces)
1/2 lb. smoked sausage (cut in bite-size pieces)
1/2 lb. boneless veal stew meat
1/2 lb. chicken gizzards
1/2 cup vegetables oil
4 tbsp. flour
1 cup chopped onion
4 qt. water
6 chicken wings (cut in half)
1/2 lb. chicken necks (skinned and cut)
1/2 lb. smoked ham (cubed)
1 lb. shrimp (peeled and deveined)
1 tbsp. paprika
1 tsp. salt
3 cloves garlic (chopped fine)
1/4 cup chopped parsley
1 tsp. ground thyme
24 oysters with their liquid
1 tbsp. filé powder
Yield: 8 - 10 servings.
Put crabs, sausages, stew meat, and gizzards in 6-quart pot over medium heat. Cover and let cook in its own fat for 30 minutes (it will produce enough, but continue to watch the pot). Heat oil in skillet and add flour to make a roux. Stir constantly until very brown. Lower heat, add onions, and cook over low heat until onions wilt. Pour onion mixture over the ingredients in the large pot. Slowly add water, stirring constantly. Bring to a boil. Add chicken wings, necks, ham, shrimp, paprika, salt, garlic, parsley, and thyme. Let simmer for 30 minutes. Add oysters and liquid; cook for 10 minutes longer. Remove from heat; add filé powder, stirring well. Serve over rice.