Jeff Young, the Catholic Foodie
If the Food and Faith series could be personified, it might take the form of Jeff Young, the New-Orleans-based blogger behind Catholic Foodie.
A former seminarian and avid cook, Young runs a recipe-filled website (its tagline is "Where Food Meets Faith"), offers a weekly food-and-faith podcast, and hosts a radio show called Around the Table.
Young began the website back in 2008. He was teaching religion and Spanish at a high school and Confirmation at his parish when the podcast craze hit. He began offering podcasts for his classes, but wanted to do something for himself, something for fun.
"The thought that came to me was food and faith—those are the two things I love so much in life," Young said.
For Young, food and faith have long been staples of his daily diet. He started making pizza from scratch when he was 11 years old, and continued cooking at a seminary in Mexico, where he was in charge of making dinner for 50 people once a month—often going to the open air markets in Tijuana to beg for leftover food they couldn't sell. It was in these times, and through the years of prayer and study that followed, that Young discovered the innate connection between food and faith.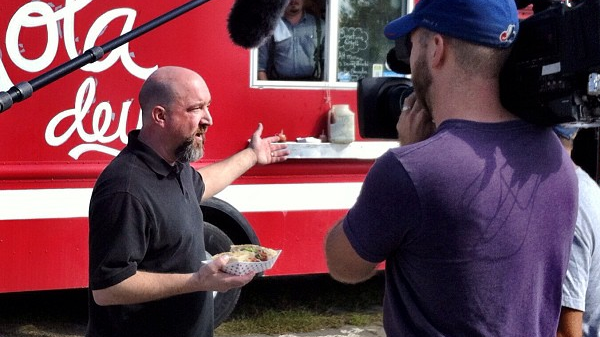 "The Bible is just full of food…"
"I began to see very clearly the role food has played in Scripture," he said. "The Bible is just full of food, whether Jesus is eating with the sinners or talking about the Bread of Life."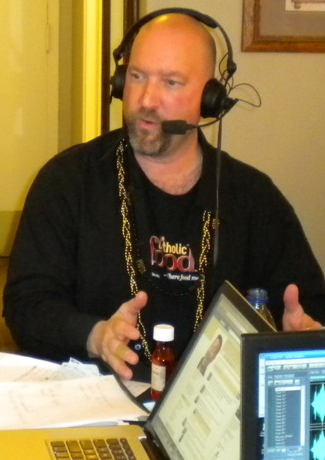 After he left the seminary, Young continued cooking for others, this time for his wife and three children. The blogger hopes the recipes he offers on Catholic Foodie—from Lebanese butter cookies to seafood gumbo—helps strengthen families around the dinner table, showing the important role food can play in relationships with loved ones and with God.
"[Catholic Foodie] has given me a love and a sense of mission as far as trying to spread the good news of the Gospel, and how we can bring that into our families through the food we eat around the table."
We joined Young on one of his podcasts to learn more about how food has strengthened his faith, about his most memorable meal (a lobster on Margarita Island in Venezuela), his upcoming food pilgrimage to the Holy Land, and practical tips he has for your family meals.
Tune in to our Part 1 and Part 2 of our conversation: "Finding God in All Things, Including the Kitchen."