Freshly baked pan de muerto, or Day of the Dead bread
Growing up on Chicago's north side was very far from my birthplace of Michoacán, Mexico. My mom's cooking on Mexican religious holidays made it feel a bit closer though—particularly on Día de los Muertos, or Day of the Dead, a magical day for me.
I remember feeling anxious to get home after school because I knew freshly baked pan de muerto, or Day of the Dead bread, the sweet smell of cenplazuchilt, a Mexican marigold flower used since the time of the Aztecs, calabaza en tacha, or candied pumpkin, drinks, and lots of food would be waiting for me. Our loved ones who had died were coming to visit, my Mom told us, and they would be sharing our food.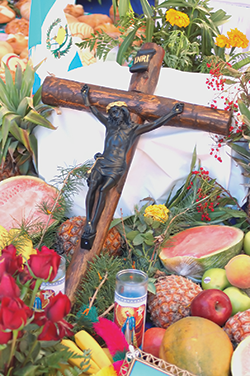 We would place a picture of each of our departed family members on the altar, which my mom would set for three days as a symbol of the Trinity. The altar consisted of a colorful spread of food, flowers, drinks, sugar skulls, and incense. During that time we weren't allowed to eat the food. We could have anything we wanted after all the souls had had their favorite treats and drinks and bread. I remember asking why the pan de muerto and calabaza en tacha was still there if our relatives had eaten it. My Mom told me they'd take the flavor of the food and the smell of the flowers, which is why everything would taste differently afterward.
In addition to the food preparations, our ancestors' stories were also a big part of the day. I loved hearing these stories, as they transported me to Michoacán, the land of my ancestors. I learned that my grandmother died giving birth to my mom. I learned that my grandfather couldn't be there for the birth because he was with the Cristeros, a group who fought against the violently anti-Catholic regime from 1926-1929. I could just picture my grandfather carrying my mom into a cave to get her baptized (You could only secretly receive the sacraments during the war—if you were caught, the soldiers would shoot you on the spot.) I felt so proud of being Catholic after hearing how my grandfather put his life on the line for his faith.
On the last day, I remember taking a bite of the stale pan de muerto, and thinking about these deceased ancestors. It transformed the way I thought about death; our bodies may be left behind, but our souls live forever. Death was not the end—it was a transition into heaven.
Today, I continue to share what I learned on Day of the Dead—the smells, the food, the stories, the lessons learned—with my four children. I continue to share stories of my father, just as my mom shared her stories, in honor of my loved ones. I relish taking this opportunity for quality family time around these special foods, recounting the good times, but most importantly, sharing the values of how we live our lives.