Photo by Fr. Brandon Bernhard, O.S.B.
If you love beer, thank a monk. Monks have been producing beer for 1,500 years, and in that time, they have revolutionized and perfected the beer-making process.
The history of monks and beer begins early in the sixth century when Benedict of Nursia wrote a template for monastic life called The Rule (later known as The Rule of St. Benedict). One of Benedict's directives was that monks should earn their own keep and donate to the poor by the work of their own hands. In the centuries following, monasteries have produced goods to sell, including cheese, honey, and, of course, beer.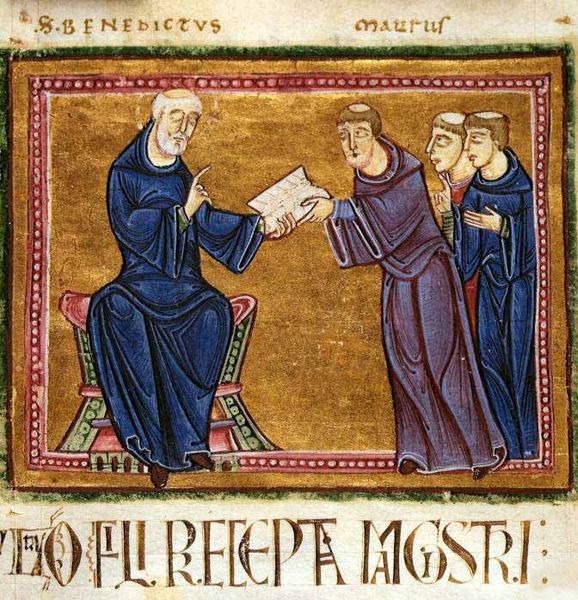 St. Benedict delivering his Rule to monks in his order.
Beer production served other purposes too. The Rule outlines the monastery's obligation to show hospitality to travelers and pilgrims. Beer was safer to drink in medieval times than water contaminated by sewage, and therefore was served to visitors. Beer was also helpful to monks in getting through periods of fasting in Lent and Advent. Beer's nutrients earned it the nickname "liquid bread."
In the Middle Ages, monks introduced regulation and sanitary practices in their breweries. They also extended the life of beer by adding hops, which acts as a preservative.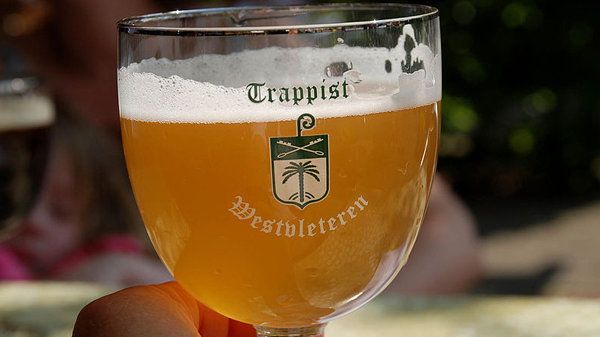 Photo by Dirk Van Esbroeck under the Creative Commons License.
Today monks produce some of the most critically acclaimed beers on the market. The most famous monastic breweries are the eight Trappist breweries in northern Europe. One of these, St. Sixtus of Westveltern, Belgium, makes what is considered the best beer in the world. In 2012 they exported their beer, Westvleteren 12, for the first time to the United States. Six-packs reportedly sold for as much as $85.
If the history of monks and beer begins with St. Benedict, it continues today in his hometown of Norcia, Italy, where a group of American monks practice "brew evangelization."
The eighteen monks of the Monastery of St. Benedict opened a brewery last year and have found that brewing beer not only allows them to be financially self-sufficient, it also helps them "preach the Gospel without preaching the Gospel," as brewery director Father Nivakoff explains in this video celebrating the one-year anniversary of Birra Nursia.
Pope Benedict XVI receives the first bottle of Birra Nursia in 2012. Photo by lablock under the Creative Commons License.
Take a tour of the brewery, located in the hometown of the founder of western monasticism, St. Benedict. Listen to "Head Brewmonk" Brother Davoren describe the challenges of producing an excellent beer, and watch Father Nivakoff discuss how sipping beer can lead to spiritual gain for visitors, especially those who may have had negative experiences of the Church.
Unfortunately, Birra Nursia is not available in the United States. But for those lucky enough to get their hands on a bottle, surely the monks' motto will come to mind: Ut laetificet cor. That the heart might be gladdened!