How to Pray with Art

Gilroy offers six steps to help you begin praying with art:

1. QUIET: Stop for a moment, breathe and relax. Perhaps recite a formal prayer.

2. INTENTION: What am I grateful for? What do I want right now?

3. ATTENTION: Look over the entire image. Is there a figure, shape, color, texture or word that calls your attention?

4. NOTICE: What feelings, thoughts, or desires do you notice? What could they reveal about God and your life?

5. RESPOND: Speak to God as you would one friend to another.

6. CLOSE: Offer a prayer or gesture as a way to end the experience.

"Place Me with Your Son,"
by Fr. Gilroy.
Thirty years ago, on the morning of his kidney transplant surgery, Bob Gilroy lay in his hospital bed and began to draw.
He scribbled an image of Jesus reaching toward an unlit candle with a match.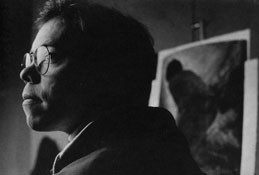 Gilroy, 24 at the time, was receiving a transplant from his brother. Previously, he had sketched other images—like over-sized pincushions to illustrate his dialysis treatment—but never something like this.
"I did that simple drawing, but it said so much," he says today. "It illustrates my prayer, which certainly was that I'd see the light in the world when I woke up."
Gilroy did wake up, and ever since, he has been helping others explore the connection between art and prayer that he discovered that morning 30 years ago.
Fifty-four-year-old Gilroy, an artist and a Jesuit, has led arts-based Ignatian retreats around the country, from Florida to South Dakota. He joined the Jesuits in 1966 after studying art as an undergrad and training in art therapy.
"It was a natural bridge between [St.] Ignatius's emphasis on the use of imagination and taking a step further and actually making what I saw in my imagination."
He now works at Bread of Life Ministries in Sacramento, Cali., training spiritual directors to use art in their ministry. The nonverbal medium of art, Gilroy says, is a powerful tool to help others draw deeper into their relationship with God.
"It gives people a language or tool to grow closer to God," Gilroy says. "When you take the risk to go beyond what you know and to trust that God's going to give you the color, the texture, the lines, the words that will help an image grow, it will reveal even more of who God is."
At the start of each of his retreats, Gilroy asks participants to come up with an image that represents their relationship with God. It could be from a famous painting, a holy card, or magazine, but he encourages images to use to use the image that jumps out. He says this is God's way of capturing our attention.
Gilroy will also read a Scripture passage and ask participants to reflect on where they feel closest—or farthest—from Jesus in the story. He invites retreatants to illustrate that part of the passage using clay, watercolors, music, poetry, and more.
And no one has to be a Michelangelo to make art, Gilroy says.
"I'm not concerned with the product. I want to know what happened as you were painting. Were you able to sustain that feeling of beauty and joy and innocence that you initially felt when you encountered Jesus in a Gospel story?"
Many people are surprised that they can use art to pray, Gilroy says. A recently retired woman who had never used art to pray before picked it up on the first day of an eight-day retreat, and didn't stop.
"That's one of the greatest things I experienced was the surprise they discover when this actually helps them experience God in a simple but extraordinary way," he said.
Gilroy believes that art allows people to be in a place where they savor each moment, as St. Ignatius advised, in a sort of suspended childhood play. And part of the challenge is to take a risk, put pen to paper, and begin.
"Until you put that first mark on the page, then you can have the courage to continue," he said. "You keep coming back to, 'Do I enjoy this or not?' There is no expectation from others; it's just something for me and God. This is all about freedom."
Gilroy wanted to share this revelation with everyone, not just those on his retreats, and so a few years ago, he created Prayer Windows, a site that offers an online retreat to help people engage in prayer through many of Gilroy's paintings. He provides different phases of the Spiritual Exercises too.
As of now, Prayer Windows averages about a half million hits per year, with people all over the world, from South Africa to Lebanon, joining in.
"In our media-savvy age, we're so inundated with material messages, but this takes people in another direction," Gilroy said. "They're spending time on the web looking at pictures that might help them bring them closer to God."
Gilroy continues to use art to pray himself. He spends at least an hour a day in his studio, sometimes working five to six hours on a particular piece. He is also working to bring art into hospitals, helping patients transform their suffering like he did 30 years ago.
"The whole thing about Jesus is transformation through suffering," he said. "Once you put colors down to express your experience, you're inviting God to help you see the healing element in all of this."