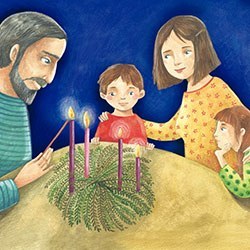 My heart is beating, filled with joy,
awaiting Mary's baby boy.
For with this child, we embrace
the birth of God's most precious grace.
Baby Jesus, soon to come!
For us comes the Promised One.
Baby Jesus, God's own Son,
you will be the Chosen One

to lead our flock into salvation.
Our eternal life awaits.
The birth of Jesus brings us nearer
Heaven's holy gates.

Sing with joy, and count the days,
for soon to come, the Lord we'll praise.
Rejoice that Jesus will soon arrive,
the Messiah and our faith alive.