Francis of Assisi wrote to one of his first followers, Brother Leo, "In whatever way it seems better to you to follow the Lord God and to follow His footprint and poverty, do it with the blessing of the Lord God and my obedience."
Poverty is one of the main characteristics of Franciscan spirituality. Francis of Assisi was fond of tales of chivalry and knightly valor. He saw himself as a knight in the service of a lord and a lady: His lord was the Lord Jesus Christ and his lady was Lady Poverty.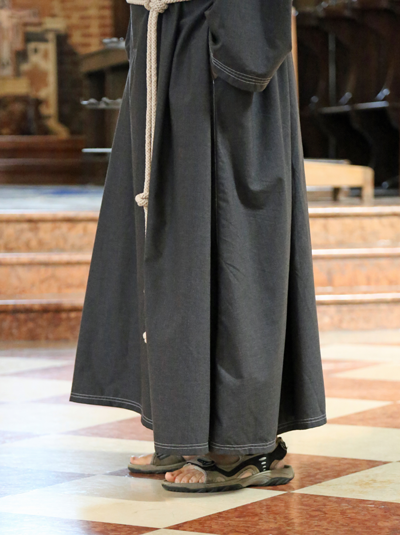 However, despite thinking of poverty in grand, romantic terms, Francis was all too aware of the harsh reality of poverty. He embraced poverty not out of idealism. Francis embraced poverty because Christ did. Francis recognized that by becoming human in the form of Jesus, God had "made Himself poor in our world." If he was going to imitate Jesus Christ in all things, Francis reasoned, he would have to imitate Christ in his poverty.
All members of the Franciscan family follow the example of Saint Francis by embracing poverty as a way of life. Men who have taken religious vows in the Order of Lesser Brothers (the official name of the Franciscan First Order) own nothing. Rather, their property is owned by the Church. Other branches of the Franciscan First Order—the Capuchins and Conventuals—take the same vows of poverty.
The women religious known as the Poor Clares have also taken vows of poverty. They live a form of life established by Saint Clare of Assisi, who learned from Francis. The Poor Clares, who form the Second Order of the Franciscan family, live cloistered lives in monasteries. They have no possessions of their own. They grow a communal garden, bake bread, and eat simply to sustain their physical needs.
The Third Order of the Franciscan family are men and women who follow Francis' example of Gospel poverty as they work, raise families, and wrestle with the ordinary demands of day-to-day living. Originally known as the Brothers and Sisters of Penance, the Third Order consists of two separate and distinct branches: The Third Order Regular and the Secular Franciscan Order. The Third Order Regular are men and women who live in community and take religious vows of poverty, much like the First Order. For the men and women of the Secular Franciscan Order, poverty is a call to live a spirit of detachment from temporary, worldly goods, simplifying their material needs.
All Franciscans embrace poverty. Some Franciscans follow Lady Poverty like Saint Benedict of Palermo, who gave away all his possessions, conducted himself with humility, and avoided physical comforts. Other Franciscans follow Lady Poverty like Saint Elizabeth of Hungary, who used her wealth and possessions to serve those in need, especially those who were sick, hungry, and poor. In whatever manner a Franciscan embraces Lady Poverty—whether it is the ascetism of Saint Benedict or the simple detachment of Saint Elizabeth—such an embrace is a means toward living everyday life by Jesus' example as shown to us through the Gospel.
Image credit: ChiccoDodiFC/Shutterstock.com.