Pope Gregory decided he must send someone to spread the Christian message to England. The man he chose was Augustine, who set off from Rome with 40 companions in the year 596.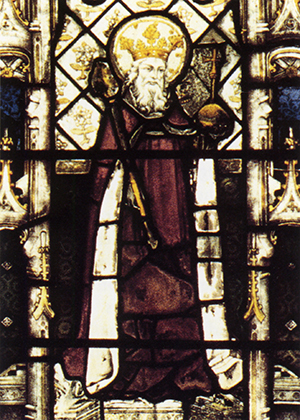 The Romans no longer ruled Europe. Much of the North was overrun with brigands, robbers, and barbarians. On his journey through France, Augustine became fearful and went back to Rome. But Gregory wasn't going to let him give up so easily. He ordered Augustine to complete his journey north.
Augustine and his monks landed in Kent, in southeast England in 597, again afraid. What might the pagan king do to them?
They were in for a surprise. King Ethelbert of Kent rode out to make them welcome. True, he did refuse to meet them indoors because his own pagan priests had warned him that these Romans might practice magic on him once they got indoors. But he listened to what they had to say and then gave them permission to enter his capital city, Canterbury, and to talk to people about Jesus. He also gave them somewhere to live, free of change.
There was yet another surprise awaiting Augustine. The king's wife, Queen Bertha, was already a Christian. She was originally French and had become a Christian before marrying Ethelbert. He had allowed her to have a small Christian church in Canterbury, and that became Augustine's first base for his mission to the Angles.
Many of the Kentish people became Christians, including King Ethelbert himself, who later gave Augustine land on which (in time) was built the great Canterbury Cathedral.
---
from The Loyola Treasury of Saints
Image credit: Ethelbert by ? , 15th century. Public Domain via Wikimedia.