Marie-Rose Durocher was born in 1811 in a village near Montreal, Canada, the 10th of 11 children. Marie-Rose thought about becoming a sister, but her health was not good enough. When Marie-Rose was 18 and her mother died, she began to work in her brother's parish in Beloeil, not far from Montreal. For 13 years she was housekeeper, hostess, and parish worker. Her goodness earned her the title the saint of Beloeil.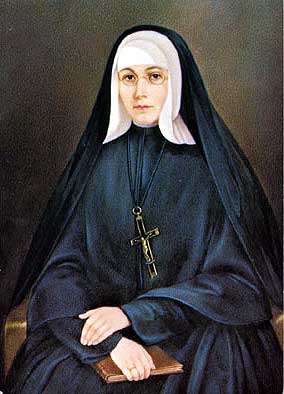 Both Marie-Rose's spiritual director and Bishop Bourget of Montreal encouraged her to found a teaching community. Marie-Rose was against the idea. Finally, with two friends, she began a boarding school for 13 girls. In 1843, with the help of the Oblates of Mary Immaculate, she founded the Sisters of the Holy Names of Jesus and Mary.
The six years Marie-Rose lived as a sister were filled with poverty, difficulty, and sickness. She practiced penance and was quite strict with her community. A great love for the crucified Jesus gave her strength. Marie-Rose's order was devoted to religious education for children who were poor. It began a mission in Oregon in 1959 and is now an international congregation. Marie-Rose died in 1849 and was beatified in 1982.
---
Suggestions
Help the students learn how organizations such as the Catholic Church Extension Society and the Knights of Columbus spread the faith. Have them choose one and write a report on it.
---
Excerpted from Christ Our Life, by Sisters of Notre Dame of Chardon, Ohio
Image credit: Marie-Rose Durocher by Theophile Hamel, 19th century. Public Domain via Wikimedia.