Critics of Padre Pio of Pietrelcina regarded him as an anomaly, a throwback to earlier times when Christians expected saints to do weird things. "I thought we left such legends back in the Middle Ages," said one incredulous observer. I suspect he had in mind saints like Joseph of Cupertino, who flew through the air at the sight of a statue of Mary. However, Padre Pio's many disciples regarded him as a saint as much for his charity, generosity, and tenderness as for the extraordinary mystical phenomena attributed to him.
Miracles happened every day of Padre Pio's life. Like other wonder-workers such as Francis of Paola, Pio freely contradicted inviolable laws of nature. He appeared in two places at the same time to help people in trouble. He summoned friends by mental telepathy or by causing them to smell the scent of violets, which was associated with his presence. He read people's thoughts and used that special knowledge to tease them. He dumbfounded people in the confessional by describing all their sins in detail. He accurately predicted future events, including his own death. He healed people of deafness, blindness, and incurable diseases. And for fifty years he bore Christ's wounds on his body and suffered enormously because of them.
How do we understand the appearance of such a "medieval" figure in our contemporary world? Perhaps we should not be surprised that God acts dramatically to get our attention when we lose sight of spiritual realities. God sent Padre Pio to us as a light to challenge the darkness of the mid-twentieth century and to offer hope to a world racked by depression and war.
---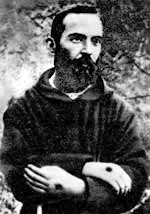 In 1903, sixteen-year-old Francesco Forgione entered the Capuchin monastery at Morcone, Italy, where he received the name Brother Pio. A bright young man whose personality blended playfulness and seriousness, he threw himself wholeheartedly into the rigors of the Capuchin novitiate. Perhaps too wholeheartedly, as for the next decade Brother Pio suffered mysterious illnesses that required his superiors to allow him to live with his family in Pietrelcina, his hometown. Inexplicably, the vomiting, fevers, and pains that instantaneously afflicted him when he set foot in the monastery subsided when he returned to his home.
As though determined to nip Pio's ministry in the bud, during these years the devil launched outrageous attacks against him. Almost nightly in his room, the enemy engaged him in violent spiritual and physical battles that left him exhausted and bruised, but not beaten. Before he joined the Capuchins, Pio had received an encouraging vision, similar to the one that had strengthened Perpetua before her martyrdom. In his mind's eye he watched himself conquer a huge, hideous monster. A beautiful youth assisted Pio and prophetically acknowledged his victory by placing a glittering crown on his head with a promise of even greater conquests to come. Frequent contests with the devil over the years made Pio an adept spiritual warrior.
In 1910, he became Padre Pio when the Capuchins ordained him a priest. He conducted his early pastoral ministry in Pietrelcina because his baffling illnesses recurred every time his superiors tried to return him to a monastery. Padre Pio celebrated Mass in the morning at his parish church and spent his days praying, teaching children, counseling people, and visiting friends. Impressed by his obvious piety and touched by his gentle affection, the people of Pietrelcina soon came to esteem their young priest as a saint.
---
Miracles and mystical phenomena fueled Padre Pio's reputation for holiness. Perhaps his earliest miracle occurred during this time at Pietrelcina. Once, he sent his favorite aunt, Daria, a bag of chestnuts, which she ate. Shortly afterward she tripped while rummaging in a dark shed. Her oil lamp ignited gunpowder that her husband had stored there, and the explosion knocked her down and severely burned her face. Daria ran to the house and covered her face with the bag Pio had sent. Immediately her pain stopped, and every trace of the burn disappeared.
---
A series of mystical events that occurred in August and September of 1918 shaped the remainder of Padre Pio's life. On August 5, an angel like the one who struck Teresa of Ávila's heart appeared to him and wounded his soul. Later he described to his spiritual director what had happened: "I was filled with extreme terror at the sight of a heavenly Being who presented himself to the eye of my intellect. In his hand he held some kind of weapon, like a long, sharp-pointed steel blade, which seemed to spew out fire. He hurled this weapon into my soul with all his might. It was only with difficulty that I did not cry out. I thought I was dying. . . . This agony lasted until the morning of August 7. . . . Even my internal organs were torn and ruptured by that weapon. Since that day I have been mortally wounded. I always feel in the depths of my soul a wound that is always open and that causes me continual agony."
Then after celebrating Mass on September 18, while sitting in the monastery choir before an ancient crucifix, Padre Pio received the stigmata. He says he fell into a deep, peaceful repose, and an angel with blood oozing from his hands, feet, and side appeared to him. "I felt like I was dying," he said, "and I would have died if the Lord had not intervened to strengthen my heart, which was ready to burst out of my chest. When the mysterious creature left, I found that my hands, feet, and side had been pierced and were bleeding. . . . The wound in my heart bleeds continuously, especially from Thursday evening until Saturday. I'm afraid that I will bleed to death if the Lord doesn't hear my groans and take these wounds from me. He can even leave the anguish and the pain, but let him take away these visible signs that are a source of embarrassment for me and an indescribable and unbearable humiliation."
For his own good reasons, the Lord said no to Padre Pio's prayer. But his no was a yes to the many people whose lives were touched by the miracles that flowed from Padre Pio's wounded hands during the next half-century.
---
Of thousands of miracles that reportedly came through Padre Pio, the most celebrated and interesting wonders occurred through his involvement with the Marchioness Giovanna Rizzani Boschi, one of his dedicated spiritual daughters.
On January 18, 1905, while Pio, then a young monk, was praying at the monastery of St. Elia in Piansi, he was miraculously transported to the garden of a mansion in the Udine. Giovanni Battista Rizzani, the father of the family, was on his deathbed, and Leonilde, the mother, was about to give birth to Giovanna. Leonilde went outside to quiet the howling of the master's dogs, and there, in the garden, she went into labor and delivered her baby. Whenever Leonilde reminisced about that memorable day, she always said that she had seen a young Capuchin at Giovanna's birth. And Brother Pio reported to his spiritual director that he had mysteriously witnessed the birth. He also said that before he found himself back at the monastery, the Virgin Mary had appeared to him in the Rizzani garden. She had entrusted Giovanna to him as a diamond in the rough and had instructed him to polish her until she shone beautifully. "She will seek you out," said Mary, "but first you will meet her in St. Peter's."

Seventeen years later, Giovanna, full of doubts about her faith, went to St. Peter's Basilica looking for a priest who might help her. A sacristan told her that the basilica was about to close and no priests were available, but a Capuchin seemed to appear from nowhere. He welcomed her into his confessional and provided satisfying answers to some of the questions that bedeviled her. Afterward Giovanna waited outside to greet the priest, but he never came out, having disappeared as quietly as he had arrived.

One day during the following summer, she learned about Padre Pio, and a few days later she followed a compelling desire to seek him out at San Giovanni Rotondo. At the monastery, she stood in a crowd hoping to see him. As he walked by, he stopped in front of her and startled her by saying, "Giovanna, I know you. You were born the day your father died." Then he walked away.

The next morning a perplexed Giovanna went to Padre Pio for confession. "Daughter," he said, "at last you have come to me. I have been waiting for you for a long time."

"Father, you must be mistaken," said Giovanna. "This is my first time at San Giovanni Rotondo. I never knew you existed until a few days ago."

"No, I am making no mistake," he said. "Last summer at St. Peter's you asked a Capuchin priest to help you with your doubts about your faith. I was that priest."

Then Giovanna recognized him. Her heart beat with excitement as he continued his story.

"When you were being born, the Virgin Mary took me to your home. I witnessed your birth in the garden. Mary entrusted you to my care and made me responsible to help you grow in holiness. She told me that someday I would meet you at St. Peter's."
These revelations touched Giovanna dramatically, and she became one of Padre Pio's spiritual daughters. A few years later he had her join the Franciscan Third Order. Customarily, new members of the order had to choose a new name, and Padre Pio gave her the unusual name Jacoba.
"What an ugly name," said Giovanna. "I don't like it."
"You will be called Sister Jacoba," he explained, "because like Jacoba, the noble Roman friend who was present at the death of St. Francis, you will be present at my death."
Giovanna remembered that strange prediction in September of 1968, when she was visiting Padre Pio at Our Lady of Grace. In the early morning of September 23, she had a vision in which she was transported to Padre Pio's cell, where she witnessed his death. Later when she told one of the monks about it, she accurately described his cell, which she had never visited, and named those who had attended him in his final hour.
---
As he did with Giovanna, Padre Pio always used his exceptional gifts to advance people in their relationship with God. His interventions in the lives of others produced remarkable and durable conversions. Unbelievers, atheists, agnostics, lapsed and lukewarm Catholics—he turned all to the Lord with a word of revelation or a healing.
Let the case of Alberto Del Fante stand for hundreds of others. Del Fante, a journalist, despised Padre Pio. He denounced him in magazines as a charlatan who preyed on gullible people. A few years later his beloved grandson, Enrico, was afflicted with kidney disease and tuberculosis, and physicians offered little hope for the boy's recovery. Relatives went to Our Lady of Grace to ask Padre Pio to pray for Enrico. They returned and told Del Fante of Padre Pio's assurance that the boy would recover. "If Enrico gets well," he promised, "I will make a pilgrimage to San Giovanni Rotondo myself." He was sure that nothing would happen, but Enrico was healed. Touched deeply by the child's miraculous cure, Del Fante went to Our Lady of Grace, where Padre Pio helped him turn to God. After Del Fante's conversion experience, he became a dedicated promoter of Padre Pio and his ministry.
Padre Pio struggled all his life with irritability, a problem that long hours in the confessional and short hours of sleep intensified. But he redeemed this fault by putting it to good use. He employed his brusque demeanor to prod people to confront honestly the condition of their souls. Once, he loudly chased a famous actress from his confessional. He refused to hear her confession because he had discerned that she had not faced up to her sinfulness. "He's anything but holy," she said to a friend. "He's rude and ill-mannered. I never want to see him again." However, she could not get him out of her mind. "Padre Pio is pursuing me," she said. "I feel like I will never be peaceful again until I speak with him." The actress returned to Our Lady of Grace, and this time Padre Pio received her graciously because she was now focused on her relationship with God. In this way he used his famous gruffness as an evangelistic tool.
Focusing too much on Padre Pio's marvels and mystical phenomena gives the false impression that he led an abnormal life, more angelic than human. While he opened our eyes to heavenly realities, he kept his feet firmly planted on the earth, enduring and enjoying ordinary things, as other human beings did. Today we mainly imagine him as a wonder-working stigmatic with miracles flowing from his wounded hands. But the people who knew him, while they appreciated his marvels, loved him more for his earthiness, his compassion, his gentleness, his humor, and his common sense. For instance, when he was asked his opinion of a thief who had stolen valuable gems from a church's painting of the Virgin, he responded, "What do you want me to say? That poor young man was probably hungry and went to Our Lady to say: 'Of what use are these jewels to you?' And probably Our Lady gave them to him. Silly him to get caught with the goods in his pocket."
---
Padre Pio embraced his own great suffering as his personal share in the suffering of Christ. But he could not endure the suffering of others. Hundreds came to Our Lady of Grace hoping for a healing, and he knew that only some of them would receive a miraculous cure. His compassion for the many who would not be healed led him to work for the establishment of a world-class hospital at San Giovanni Rotondo that would serve the poor. From the outset he planned to name it "House for the Relief of Suffering."
Padre Pio worked against all odds to achieve his goal of creating a medical center. He faced obstacles that would have deflated the enthusiasm of lesser men. How does a monk vowed to poverty build a hospital without any money in an impoverished town situated on an inaccessible mountain? Padre Pio did it by faith and with a small army of friends. His associates helped him raise money, design and construct the buildings, and assemble a top-shelf medical staff. When the House for the Relief of Suffering opened in 1956, many observers believed it could not survive because of its location on a desolate mountain. However, Padre Pio believed otherwise. When he inaugurated the first building, he said, "Now House for the Relief of Suffering is a small seed, but it will become a mighty oak, a hospital that is a small city and a center for clinical studies of international importance." That prophecy has come true. Today the hospital is a thriving center whose expanding complex resembles a little city.
Padre Pio's practical compassion and entrepreneurial genius defy those who might be tempted to dismiss him as a medieval weirdo. Instead he stands for all as a modern icon of God's inexhaustible love for human beings and his determination to rescue us at all costs.
---
Image credit: Padre Pio by unknown artist, unknown date. Public Domain via Wikimedia.