On a beautiful Sunday afternoon, May 13, 1917, three children were laughing and chatting as they kept watch over their families' sheep. This afternoon they were building a playhouse out of brush and rocks. Suddenly a bright light flashed. They thought it was lightning. Then it flashed again. They saw a ball of light descend upon a little green evergreen tree. Within the light was a beautiful woman dressed in white.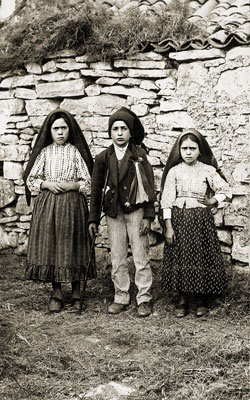 The children were Lucia dos Santos, who was 10 years old, and her cousins Francisco Marto (9) and his sister Jacinta (7). These children lived in Portugal, in a small village near Fatima. The shining woman told them not to be afraid and that she was from heaven. She told them she would return on the 13th day of each month for 6 months, and she asked them to meet her at this place, Cova da Iria.
Many people including Lucia's family did not believe the children. People laughed, ridiculed, harassed, threatened them and put them in jail for two days. But nothing could change the truth.
During the summer, on the 13th day of each month, the Blessed Mother Mary appeared to the children. More and more people accompanied to the Cova. Each time Mary told them to pray the Rosary for peace in the world and to sacrifice for sinners. On October 13, the last day of apparition, more than 70,000 were waiting. This time the Lady of the Rosary asked them to build a chapel on the rocky hillside. The entire crowd saw a remarkable sight. The sun seemed to dance in the sky. It was spinning like a top and shooting off brilliant colors of the rainbow. Suddenly the sun dropped treacherously close to earth. People dropped to their knees, and the sun just as quickly returned to its play in the sky.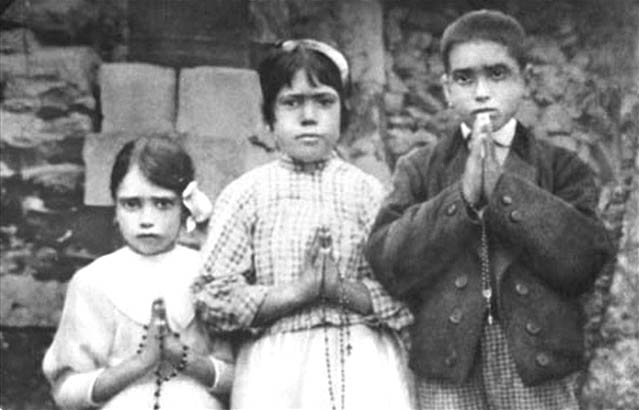 You might think that if the Blessed Mother of God appears to you and speaks to you, you are a saint. But that is not necessarily true. What is true is that Mary chose to come to children who the year before had been visited by the Angel of Peace, children who had listened to the angel's message and prayed the prayer the angel taught them. They responded to Mary in the same way and prayed the Rosary and offered sacrifices for sinners and for the conversion of the world. They were children who wanted to please God.
Francisco and Jacinta died within a short time, as the Lady had said they would. They were beatified on May 13, 2000. At that time Lucia dos Santos was a Carmelite nun in Portugal. Sister Lucia died February 13, 2005 at age 97. Pope Francis canonized Francisco and Jacinta during a May 13, 2017 Mass in Fatima. Pope Francis declared Sister Lucia "venerable" in 2023.