The popular image of St. Francis of Assisi is warped with romantic notions. Many see him as a sweet simpleton who picked flowers and talked with animals. Francis was gentle and loved God's creation, but he was not naive. Just the opposite. As a youth he went to war eagerly, patiently endured imprisonment and illnesses, embraced Lady Poverty as his bride, and gave up everything to follow Christ. The real St. Francis of Assisi was a courageous spiritual warrior.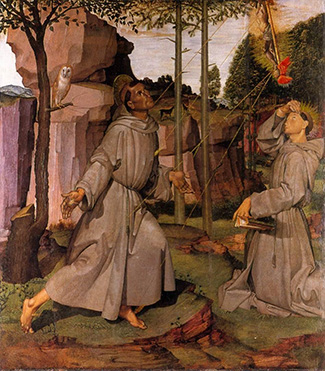 Francis's vocation cost him dearly. Decision by decision he stripped himself of attachments so as to be more like Jesus. Once en route to a war in southern Italy, Francis heard a divine voice invite him to stop serving the servant and dedicate himself to the master. He responded by committing himself to live for God alone. In his early twenties Francis decided to become like the poor he met in Assisi's back streets and took "Lady Poverty" as his bride. Then one day when Francis was praying in the dilapidated church of St. Damian, he heard a voice from the crucifix say, "Go and repair my church." At first Francis literally worked to fix the building, but later understood that his real call was to renew people spiritually. From that day Francis devoted himself to Christ crucified. Francis's father took him to the bishop's court, demanding that his son repay the money he had used to repair St. Damian's church building. The saint submitted, but then stripped naked, returning his clothes to his father as a sign that he forsook his family and his inheritance.
Then Francis began his itinerant ministry in central Italy, attracting young followers as he went. Once in 1209 at Mass he heard the gospel about Jesus sending his disciples to preach, to heal, and to do spiritual warfare. He took it literally as a life pattern for him and his band of men (see Matthew 10:7–10). In 1210, Francis got formal approval for his community of Friars Minor from Pope Innocent III, and by 1221 he had hundreds of brothers and had established friaries all over Europe. In 1224 at his retreat on Mount Alvernia, Francis had a vision of a seraph, a great angel, nailed to a cross. As he watched, Francis himself received the stigmata. Replicas of the Savior's wounds appeared in his hands and side, acknowledging the saint's intimacy with Christ. The movement Francis launched has reverberated through the centuries, touching millions of souls. He died in 1226.
---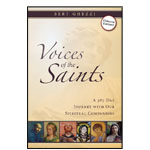 from Voices of the Saints, by Bert Ghezzi
Image credit: Stigmata of St Francis by Bartolomeo della Gatta, 1487. Public Domain via Wikimedia.