The PDFs that follow are excerpted from Saints of the Americas: Conversations with 30 Saints from 15 Countries, by Arturo Pérez-Rodríguez and Miguel Arias. The authors describe their work:
Saints of the Americas tells the story of these persons while acknowledging them as part of our own family. We have grown by "talking with them." The saints are, at the same time, our intercessors before God, the extended family's elder brothers and sisters; no matter their age or ethnicity, they are companions along the way and sure confidants of our joys and hopes.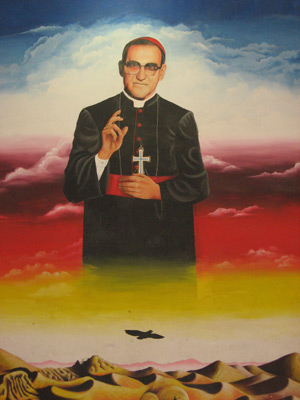 Saints of the Americas doesn't present a historical narrative, but rather, following Ignatian spirituality, relives history and brings us into an active dialogue that inspires and challenges us to discover the context of a life of holiness.
The "dialogue" with Óscar Arnulfo Romero follows, in English and in Spanish. Oscar Romero, at a mature age, abandoned his former perspective on life and discovered through the people, oppressed by their lack of hope, that God called him to become the word of hope for the people of El Salvador.
---
Related Activities:
---
Learn more about Saints of the Americas or Santos Americanos.
Image credit: Mural with Ocsar Romero by Giobanny Ascencio and Raul Lemus, 1991. Public Domain via Wikimedia.