In the last half of the eighth century, Charlemagne presided over a revival of learning in the Frankish empire. Alcuin of York, a scholar saint, was largely responsible for generating this cultural renewal now called the Carolingian Renaissance. In 767, Alcuin became the rector of the minster school at York, where he had studied. An innovative educator, he improved the school, made its library one of England's best, and attracted outstanding students.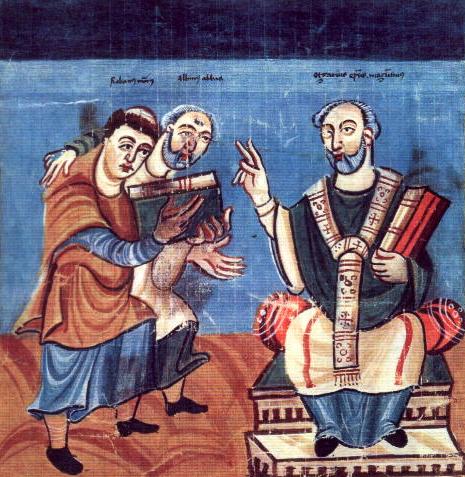 Charlemagne brought Alcuin to Aachen in 781 and appointed him as his ecclesiastical and educational adviser. Later, even though Alcuin was not a priest and probably was not a monk, Charlemagne installed him as the abbot of the monastery of St. Martin at Tours. As head of the palace school, Alcuin elevated the culture at court and sponsored educational enterprises throughout the realm. And under his guidance the abbey at Tours became famous as a center of learning. Alcuin also won his reputation as a theologian and liturgist. He wrote and spoke against the Adoptionists, heretics who claimed that Jesus was God's adopted son. And Alcuin conducted a liturgical reform that left its mark on the Roman style of worship. He revised the Roman lectionary, the book of readings used in worship, and put together a new sacramentary, the book of formulas for baptism and other sacraments.
He also wrote verse, textbooks, and innumerable letters. As adviser to Charlemagne, he played a special role in the education of the royal family. As the following letter to one of Charlemagne's sons shows, he held his heirs to a high Christian ideal:
I rejoice my dearest son, in your devoted good will regarding both your generous almsgiving and your gentle rule. All this surely pleases God and deserves the mercy of his perpetual blessing. Always work to the utmost for the honor of God Almighty. In goodness and piety, follow the example of your most excellent father so that by Christ's divine clemency you may inherit his blessing.
Listen faithfully to the poor and judge their cause with absolute justice. Do not permit the judges under you to judge for presents and gifts. For Holy Scripture says gifts blind the hearts of the wise and subvert the words of the just. Hold in honor those who are true servants of God, for some come in sheep's clothing but inwardly are ravening wolves. Be prudent in thought and cautious in speech. Always set your hope on God, for he never fails them whose hope is set on him.
For his vast efforts as an educational reformer, history recognizes Alcuin as "the schoolmaster of Europe." He died at the abbey of Tours in 804.
---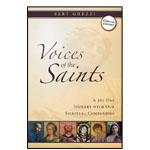 from Voices of the Saints, by Bert Ghezzi
Image credit: Raban Maur, supported by Alcuin, dedicates his work to Archbichop Otgar of Mainz by unknown artist, unknown date. Public Domain via Wikimedia.