As a young boy in Aosta, Italy, Anselm thought of being a priest. His father, angered by this desire, introduced his son to court life. Anselm forgot about his vocation. But in 1060, Anselm learned of Lanfranc, the leader of monasticism in Normandy, France. Anselm entered Lanfranc's monastery at Bec. Three years later, Anselm became a prior, or head, and began to publish his writings on the existence of God.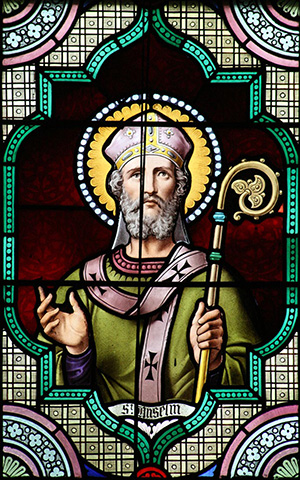 Anselm was unanimously elected abbot in 1070, when Lanfranc was made bishop of Canterbury, England. When Lanfranc died in 1089, the English clergy wanted Anselm as their bishop. But Rufus, the son of William the Conqueror, would not approve. For four years, there was no bishop of Canterbury. Then, Rufus suddenly became mortally ill. In fear of hell, Rufus appointed Anselm archbishop of Canterbury.
Rufus recovered and fell into his former sins: taking Church lands and attempting to appoint his own bishops. Frightened over conflict between the archbishop and the king, the bishops and priests abandoned Anselm. The king then exiled him. In exile, Anselm wrote treatises and took part in the Council of Bari (1098). After the death of Rufus, Anselm returned to England. Henry I, brother of Rufus, was then the king. Like his brother, Henry wanted to appoint bishops. Anselm refused to accept his appointment from the king. Again Anselm was exiled to Rome. Pope Paschal worked out a compromise between the king and the bishop.
Until his death in 1109, Anselm remained in England, defending the faith. Canterbury came to be recognized as the major see in England. In 1720, Anselm was given the title Doctor of the Church and Father of Scholasticism because he analyzed and taught the truths of the faith by the aid of reason.
---
Suggestions
Through Anselm's efforts, the National Council at Westminster (1102) passed a law prohibiting the sale of people. Discuss what bishops do today to promote social justice.

Anselm's method of teaching used parables drawn from life. Share something from your life that has drawn you closer to God.
---
Excerpted from Christ Our Life, by Sisters of Notre Dame of Chardon, Ohio
Image credit: St Anselm of Catherbury by unknown artist, 19th century. Public Domain via Wikimedia.