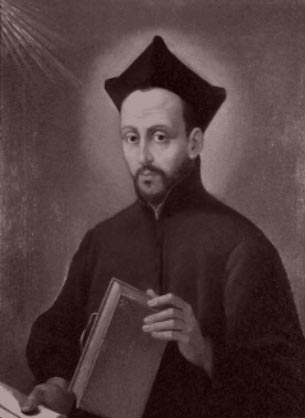 Anthony Zaccaria was born in Cremona, Italy, in 1502. He studied medicine and became a doctor, but he kept wishing to be a priest. After a few years, he entered the seminary and was ordained a priest. Anthony took Saint Paul for his model and patron. His days were filled with preaching in churches and on street corners. Because several men wanted to join him in his work, Anthony founded a religious order. He called his group Barnabites in honor of Barnabas, the companion of Paul.
At the time that Luther was dividing the Church in Germany, Anthony and his followers were drawing halfhearted Catholics back to their faith. Anthony encouraged frequent Holy Communion and had his priests conduct parish missions.
Anthony lived only to age 36. He is usually pictured with a symbol of the Eucharist, with a crucifix, or with Saint Paul.
---
Suggestions
Encourage the students to think of times that doctors have helped them and to write a prayer for them.

Help the students decide on one thing they can do to encourage people to know the joy and peace of God's love.
---
Excerpted from Christ Our Life, by Sisters of Notre Dame of Chardon, Ohio
Image credit: Antonio Maria Zaccaria, founder of the Barnabites and Catholic Saint by unknown artist, 16th century. Public Domain via Wikimedia.