The gift of mystical prayer, an experience of a special union with God in love, was given to Bridget. She often had visions of Christ's passion. However, Bridget was also very practical in living out the Gospel.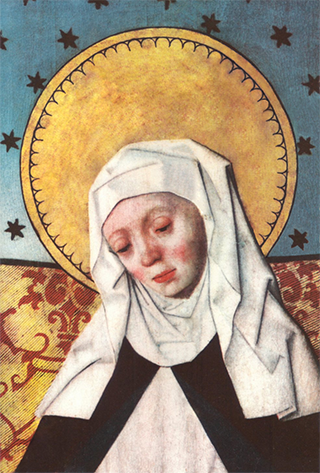 Bridget was born in 1303 into the family of a wealthy landowner in Sweden. She became a very good wife and mother. One of her eight children, Catherine of Sweden, was canonized. Once Bridget was invited to be the queen's chief lady-in-waiting. She lived at the court for two years and encouraged the queen and king to live holy lives. After her husband's death, Bridget founded an order of nuns known as the Bridgetines, who contributed to the culture of Scandinavia. She showed loving concern for people who were poor and sick, and many people came to her for help. Bridget made pilgrimages around Italy and even to the Holy Land. She spent her last years in Rome. She urged the pope to leave Avignon in France and return to Rome. Bridget died in Rome in 1373.
---
Excerpted from Christ Our Life, by Sisters of Notre Dame of Chardon, Ohio
Image credit: Birgitta of Sweden by Hermann Rode, 15th century. Public Domain via Wikimedia.