Callistus was born in the late second century as a slave to a Christian master. His master noticed that Callistus had skill in finance and put him in charge of a bank. Some enemies of Callistus falsely accused him of embezzlement. Terrified, Callistus tried to escape from Rome. He was caught and condemned to the mines of Sardinia. After partially serving his sentence, he was released so that he might recover some of the money. He was arrested for fighting and sent back to the mines. Fortunately for him and other Christians, Marcia, the emperor's mistress, won their release.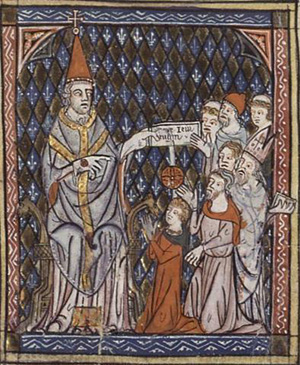 Pope Zephyrinus made Callistus manager of the burial grounds. Even today the land is named the cemetery of Saint Callistus. Callistus proved himself responsible and was ordained a deacon. In 217, Callistus was elected as the next pontiff. This shocked Hippolytus and his followers. In rebellion, this group elected Hippolytus as pope, later known as the first antipope.This made two men who claimed to be pope.
A schism, or split, in the Church went on for 18 years. Pope Callistus I gently tried to encourage Hippolytus to understand his error. At the same time, Callistus tried to make wise rules for the Church. He felt there should be mercy for those who had fallen away during persecution but who later repented. Callistus said the Church has the authority to forgive all sins. This angered Hippolytus, who felt that Callistus was lenient. Hippolytus wrote bitterly about the pope, who bore the insults calmly and humbly. Callistus I remained steady in his desire to bring peace to the Church. He was martyred in a riot.
---
Suggestions
Direct the students to find out how a pope is elected.

Have the students investigate evangelization in the Church and find out what parishes can do to bring unbaptized people and half-hearted Catholics to participation in parish life.

Post a prayer sheet for the students to write petitions for suffering people for whom they would like the class to pray.
---
Excerpted from Christ Our Life, by Sisters of Notre Dame of Chardon, Ohio
Image credit: Saint Callistus I establishing the fasts by Richard Montbaston, 14th century. Public Domain via Wikimedia.