St. Catherine of Bologna was born in Italy in 1413. When she was a young girl, her aristocratic father sent her to court in Ferrara to be a lady-in-waiting to the Marquis' daughter, Princess Margarita. At the time, the city of Ferrara was becoming a cultural center, providing the young girls with an excellent education in music, literature, painting, and dancing. Catherine particularly excelled at miniature painting, Latin, and playing the viola.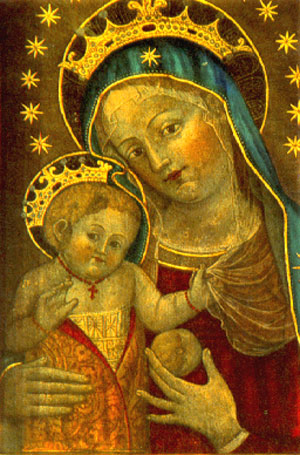 When Margarita became engaged, she invited Catherine to stay with her, but Catherine felt called to the religious life and at the age of 14, she joined a Franciscan community. During this time she suffered a spiritual crisis, but she had a vision of the Real Presence in the Eucharist that brought her consolation. Spiritual visions consoled and disturbed her at various times in her life, which we know from her work, The Seven Spiritual Weapons.
Dissension in the community led Catherine and others to join the Poor Clares, a contemplative order founded by St. Francis and St. Clare of Assisi. Catherine willingly served in humble roles at the convent, including laundress, baker, and animal caretaker. Late in her life, she obediently left her beloved Ferrara to found a new convent in Bologna, where she served as abbess.
Catherine continued in her artistic pursuits, playing the viola, painting religious pictures (including one of St. Ursula that hangs today in a gallery in Venice), copying out and illuminating her breviary (now on display at Oxford), and writing spiritual guides and poetry.
In 1463, aged 49, she became gravely ill and died within a few months. Her incorrupt body rests in Bologna. Catherine was canonized in 1712, and her feast day is March 9. She is a patron saint of artists.
---
Suggestions:
Visit Arts & Faith to learn about ways modern-day Catholics are expressing their faith through the visual and performing arts.
Compose a prayer in honor of artists, asking for the intercession of St. Catherine.
Create a scrapbook of saints inspired by the artistic sensibility of St. Catherine. Entries can include saints known for their artistic talents or other favorite saints. Encourage children to be creative in decorating their pages.
Learn more about the Franciscan spirituality which St. Catherine lived. Start with reading the stories of St. Francis of Assisi and St. Clare of Assisi.
---
Excerpted from Christ Our Life, by Sisters of Notre Dame of Chardon, Ohio
Image credit: Madonna and Child by St. Catherine of Bologna, 15th century. Public Domain via Wikimedia.