For centuries St. Cecelia has remained one of the church's most beloved saints. Parents give their daughters her lovely name, which means "lily of heaven." However, all we know about Cecelia comes from a fifth-century legend that has no historical evidence to support it. Except that two young men featured in the story, Valerian and Tiburtius, were known to have been martyred in the third century and buried in the catacombs. However, no catacomb grave or contemporary writer validates the fascinating tale of St. Cecelia.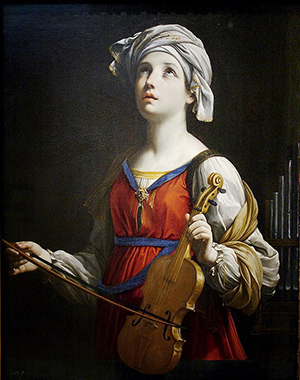 However, the story still charms and inspires us. Cecelia, a patrician maiden, dedicated her virginity to Christ, but her father betrothed her to Valerian, a young pagan. Forced into marriage, Cecelia determined to keep her commitment. According to the legend:
As the wedding day approached, she fasted for two or three days. On her nuptial day she wore a hair shirt next to her flesh, concealed by her gown of cloth of gold. She sang in her heart to God alone, saying, "O Lord, let my heart and my body be undefiled." That night, when with her spouse she sought the secret silences of the bridal chamber, she spoke to him as follows: "O sweetest and most loving youth, there is a secret that I may confess to you, if only you will swear to guard it faithfully." Then Valerian swore that no necessity would make him betray it in any way. Then she said: "I have for my lover an angel of God, who guards my body with exceeding zeal! If he sees you but lightly touch me for sordid love, he will smite you, and you will lose the fair flower of your youth. But if he knows that you love me with a pure love, he will love you as he loves me, and will show you his glory!"
Then Valerian, guided by the will of God, said: "If you will have me believe you, show me the angel! If I find that he is really an angel, I shall do as you ask me!"
We might wonder if bad breath from fasting and the stink of the hair shirt might not have been enough to protect Cecelia from Valerian's touch. However, the youth followed Cecelia's directions and sought baptism from Pope Urban I. Upon his return Valerian saw Cecelia's angel, who crowned both of them with floral wreaths. Then Valerian's brother, Tiburtius, was also converted. The two new Christians were soon beheaded for burying the bodies of those who had been martyred.
Cecelia herself was condemned for refusing to worship the gods. An attempt to suffocate her in her own bathroom failed. So a soldier was ordered to behead her, but he bungled the job. Cecelia lay dying for three days, during which she bequeathed her property to the church.
The Cecelia legend may be purely fictitious, but this fiction conveys truths that stimulate our faith. St. Cecelia testifies to the supernatural realities that penetrate our lives and invite us to live for God alone no matter what it costs.
---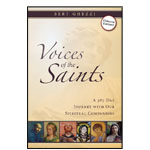 from Voices of the Saints, by Bert Ghezzi
Image credit: St Cecilia by Guido Reni, 1606. Public Domain via Wikimedia.