Elizabeth was born in 1207. Her father was Alexander II, the king of Hungary. Her marriage was arranged when she was just a child, and at age four, she was sent to Thuringia for education and eventual marriage. When she was 14, she married Louis of Thuringia. They loved each other deeply.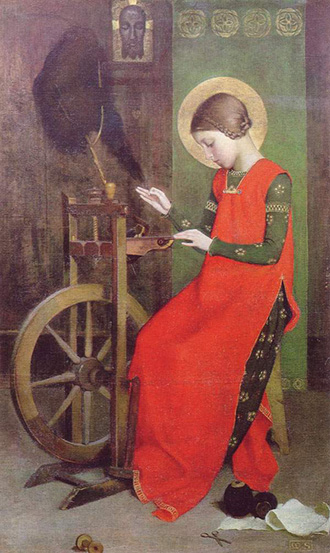 According to legend, Elizabeth went out with loaves of bread to feed those who were poor. Her husband saw her and took hold of her cape to see what she was carrying. What he saw was roses rather than bread! Because of this, she is also known as the patroness of bakers. Louis supported her in all she did to relieve the sufferings of those who were poor or sick. But Louis's mother, Sophia, his brother, and other members of court resented Elizabeth's generosity. She was taunted and mocked by the royal family, but deeply loved by the common people. Louis loved her and defended her. They had three children.
In 1227, after six years of marriage, Louis went to fight in the Crusades. He died on the way. Elizabeth was grief stricken. Her in-laws accused her of mismanaging the finances of the kingdom, forcing her and her children out of the palace. For a while, they found refuge only in barns. Finally, they were taken in by her uncle, the bishop of Bamberg. When her husband's friends returned from the Crusades, they helped restore her to her rightful place in the palace. Elizabeth increased her service to others. She was 24 when she died. She was canonized only four years later. Elizabeth is symbolized by a triple crown—for roles as a member of royalty, as a mother, and as a saint, crowned in heaven. She is the patroness of the Franciscan Third Order and of all Catholic Charities.
---
Suggestions
Have the students research Third Orders. Tell them to find out what services are offered through Catholic Charities and how they can help.

Let the students give examples of how they may be called to bear wrongs patiently.
---
Excerpted from Christ Our Life, by Sisters of Notre Dame of Chardon, Ohio
Image credit: St Elizabeh of Hungary Spinning for the Poor by Marianne Stokes, 1895. Public Domain via Wikimedia.