St. Eulalia died a martyr at Mérida, Spain, during the persecution of Diocletian. In the early Middle Ages, her story captivated the hearts of Catholics throughout Europe. People admired her because they believed that she was only 12 when she submitted to a monstrous death. And the church in Spain now celebrates Eulalia as its greatest virgin martyr.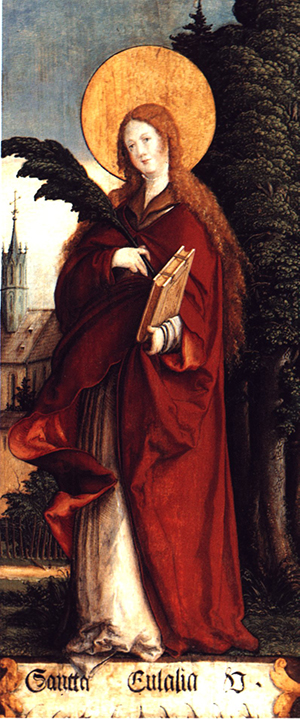 Around 405, Prudentius wrote a hymn in Eulalia's honor, which popularized her story. In the poem she appears as a child mature beyond her 12 years. Because she seemed determined to defy the decree requiring worship of the gods, her mother hid her at a home in the countryside. But Eulalia slipped off at night and the very next morning fearlessly confronted the judge. Prudentius wrote:
"Miserable men, for the Christians you search! Lo, I am one of that odious race, foe to your fiendish idolatrous rites. Witness to Christ with my heart and lips, Under my feet I will trample your gods. . . ."
The judge tried bribery and gentle persuasion to win her, suggesting that she need only let her finger touch a little salt and incense. But Eulalia rebuffed him and she tramped on the offering cake. Losing all patience, the judge threatened her with instruments of torture.
As Prudentius tells it:
Forthwith two slaughterers seized her. When the executioners touched flames to her wounds, Eulalia's hair caught fire and she was burned alive. Prudentius says that as she died a miraculous sign of her innocence amazed the onlookers.
Then of a sudden a snowy-white dove Springs from the martyr and flies Forth to the stars in the sight of the crowd. It was Eulalia's innocent soul, winging its way to celestial heights. Snow fell, covering Eulalia's remains until the Christians buried them nearby. Later, to mark the spot where she died, they constructed a church that became a popular shrine for pilgrims. Augustine, Jerome, and Venantius Fortunatus wrote about Eulalia, establishing her fame. And the earliest known French poem celebrated her courageous sacrifice.
---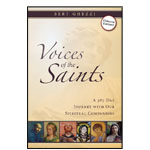 from Voices of the Saints, by Bert Ghezzi
Image credit: Saint Eulalia, a martyr with palm by Meister von MeBkirch, 1540. Public Domain via Wikimedia.