"The secret of happiness is to live moment by moment and to thank God for all that he, in his goodness, sends to us day after day."
Saint Gianna was born in northern Italy, near Milan. Her family was devout, and Gianna learned the value of prayer and Christian service very early. At age twelve, she became involved in Catholic Action, and as a young adult, she joined the Society of Saint Vincent de Paul.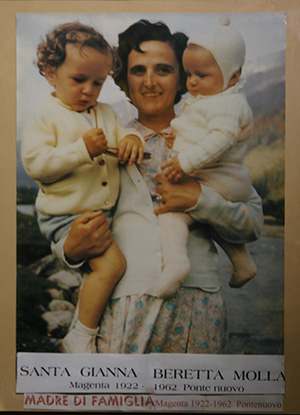 Gianna began studying medicine during World War II, and afterward became a doctor, specializing in pediatrics. After marrying Pietro Molla in 1955, they had a son and two daughters. While pregnant with her fourth child, Gianna was diagnosed with a uterine tumor. She resolved to save the life of her unborn child despite the risk to her own life. Her fourth child, Gianna Emanuela, was born on April 21, 1962, and Gianna died seven days later as a result of complications of the tumor.
In his homily on the occasion of her beatification on April 24, 1994, Pope John Paul II offered Gianna Beretta Molla as a model for all mothers: "By holding up this woman as an exemplar of Christian perfection, we would like to extol all those high-spirited mothers of families who give themselves completely to their family, who suffer in giving birth, who are prepared for every labor and every kind of sacrifice, so that the best they have can be given to others." Gianna was canonized on May 16, 2004.
Saint Gianna understood the realities of being a wife, doctor, and working mother. She believed deeply in the holiness of the family and in the sanctity of human life. It was this deep belief that gave her the courage to entrust herself and her family to God's loving hands.
What are the responsibilities of life that you juggle? Spend some time reflecting on what these responsibilities require of you. Ask God for help to know your life's sacred purpose.
---
Next Steps
Learn more about Saint Gianna Beretta Molla and her family.
Which Christian service organizations are active in your parish or local community? Find out what their needs are and organize a fund-raiser.
Do you know a pregnant woman or parents of young children? Provide some respite by offering to prepare dinner, babysit, or run errands.
Image credit: Saint Gianna Beretta Molla by Jose Luiz, 1962. Public Domain via Wikimedia.