Isidore was born in Madrid, Spain, and farming was to be his labor, working for the same landowner his whole life. While he walked the fields, plowing, planting, and harvesting, he also prayed. As a hardworking man, Isidore had three great loves: God, his family, and the soil. He and his wife Maria, who is also honored as a saint, proved to all their neighbors that poverty, hard work, and sorrow (their only child died as little boy) cannot destroy human happiness if we accept them with faith and in union with Christ. Isidore understood clearly that, without soil, the human race cannot exist too long. The insight may explain why he always had such a reverent attitude toward his work as a farmer.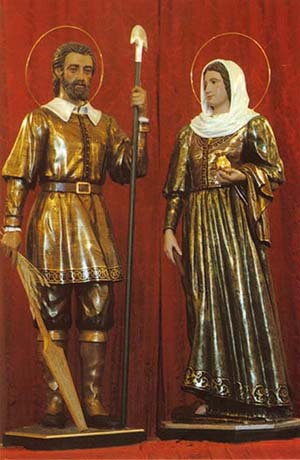 Isidore and Maria were known for their love of the poor. Often they brought food to poor, hungry persons and prayed with them. During his lifetime, Isidore had the gift of miracles. If he was late for work because he went to Mass, and angel was seen plowing for him. More than once he fed hungry people with food that seemed to multiply miraculously. He died after a peaceful life of hard labor and charity.
Isidore's goodness continued. In 1211, he helped the King of Castile in Spain during a war. He appeared to the king and showed him a path by which the king surprised and defeated the enemy. In the 1600s when Philip the King of Spain was near death, people processed to his room, carrying Isidore's incorrupt body. By the time they reached the room, the king had recovered.
Today Isidore is honored in Spain as one of the country's greatest saints, and he is also honored especially in the rural United States. Not surprisingly, he is the patron of farmers and of Madrid, the capital of Spain.
---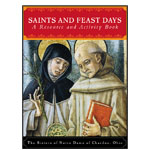 from Saints and Feast Days, by Sisters of Notre Dame of Chardon, Ohio
Image credit: St. Isidor the Farmer and St. mary de la Cabeza by unknown artist, 18th century. Public Domain via Wikimedia.