Jane Frances Fremyot was born into nobility in 1572 in France. Her father was president of parliament at Dijon; her brother became an archbishop. Since Jane's mother had died when Jane was young, she had to take on added responsibilities. She was intelligent, beautiful, and charming. She fell in love, married Christopher de Chantal, and went to live in a castle at age 21. She persuaded her husband to have daily Mass for the household. Not only did she care for her home and her four children, but she also nursed those who were sick and aged. Those who begged were never turned away.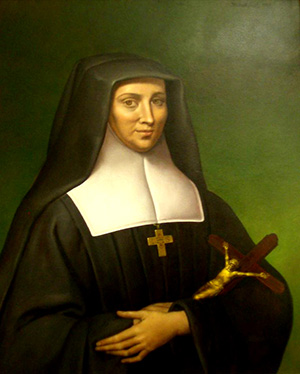 Then Jane's husband was killed by another man in a shooting accident. For a while, Jane lost interest in everything. Then her father-in-law demanded she come and manage his estate, or he would take away her inheritance. The young widow took her children and her belongings to her father-in-law's house. The man was tyrannical. Jane prayed for hope and strength. After seven years, Jane's father suggested she spend Lent with her own family. A well-liked bishop, Francis de Sales, was giving talks in that diocese. He became Jane's spiritual director. Francis was amazed at Jane's deep faith, courage, and prayer life. Francis encouraged her to seek God in a way of love, gentleness, and humility. When Jane returned home, she had a more positive outlook and became reconciled with the man who had caused her husband's death.
Francis de Sales shared with Jane his dream of a religious community of women who would help those who were poor in the cities. Jane agreed to found such a community. On June 6, 1610, they opened the first convent. Jane and 12 other women called themselves the Order of the Visitation of Holy Mary. When Francis de Sales and Jane decided to open a second convent, a cardinal in Lyons, France, protested because sisters at that time did not go out into the world to serve. So Jane and Francis made the Visitation sisters cloistered. Eighty convents were founded before Jane's death.
---
Suggestions
Saint Jane Frances de Chantal had the courage to change her plans when God asked her to. Close the religion class with a prayer that all in class may see God working in everyday events and guiding their lives even when their plans are changed.

Have the students make collages of the works of mercy.
---
Excerpted from Christ Our Life, by Sisters of Notre Dame of Chardon, Ohio
Image credit: Jane Frances de Chantal by Michael Fuchs, unknown date. Public Domain via Wikimedia.