Jerome Emiliani was born in Venice. As a soldier, he was captured during battle and imprisoned. In a dungeon he thought about his life, which had been far from virtuous. He decided to change and dedicated himself to the Virgin Mary. After a miraculous escape from prison, Jerome returned to Venice. He took care of the sick and the poor in the hospitals there. He also studied for the priesthood and was ordained in 1518.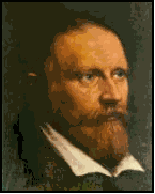 When the plague broke out in 1528, Jerome cared for the sick and fed the hungry at his own expense. Many children were left orphaned, homeless, and abandoned. Jerome decided to devote his life to their care. He traveled from city to city and founded three orphanages, a hospital, and a shelter for penitent women. Jerome set up a program for children similar to the vocational training classes of today. He taught them the Catholic faith.
About 1532 Jerome and two other priests founded a congregation for the care of orphans and for the education of priests and children. it began as the society of the Servants for the Poor but became the Clerks Regular of Somascha.
Jerome died of a disease he caught from his patients. The names of Jesus and Mary were his last words.
---
from Saints Kit
Image credit: Saint Jerome Emiliani by unknown artist, unknown date. Public Domain via Wikimedia.