Jerome was a man of extremes. His real name was Eusebius Hieronymus Sophronius. He lived to age 91 even though he undertook extreme penances. Jerome had a fierce temper but an equally intense love of Christ.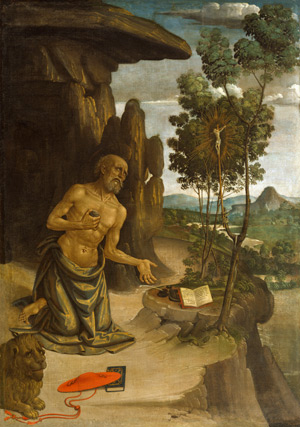 This brilliant saint was born in Eastern Europe around 345. His Christian family sent him to Rome at age 12 for a good education. He studied there until he was 20. Then he and his friends lived in a small monastery for three years, until the group dissolved. Jerome set out for Palestine, but when he reached Antioch, he fell seriously ill. He dreamt one night that he was taken before the judgment seat of God and condemned for being a heretic. This dream made a deep impression on him.
Although Jerome wished to study rather than to be a priest, he was ordained. Again he tried the life of a monk in the desert, but impure temptations plagued him. To fight them, he studied Hebrew, wrote letters counseling friends in the spiritual life, and copied books. Finally, Jerome moved to Constantinople. He studied Scripture under the Greek theologian Gregory Nazianzen. Pope Damasus summoned him to Rome and had him translate the Bible into Latin, a 30-year task. His translation, called the Vulgate, became the official text of the Catholic Church.
Jerome was strong willed. His writings, especially those opposing what he considered heresy, were sometimes explosive. His temperament helped him do difficult tasks, but it also made him enemies. Jerome was named a Doctor of the Church for the Vulgate, his commentaries on Scripture, his writings on monastic life, and his belief that during a controversy on theological opinions, the See of Rome was where the matter should be settled.
Jerome also guided a group of Christian widows who were practicing a semimonastic life. Gossip about his spending so much time with women led Jerome to move to Bethlehem. There, Jerome trained Paula and Eustochium to be Scripture scholars and to assist him.
---
Suggestions
Ask the students to find out what a spiritual director is and how one can help a person to be holy.

Have the students find out what translations of the Bible are available.
---
Excerpted from Christ Our Life, by Sisters of Notre Dame of Chardon, Ohio
Image credit: Saint Jerome in the Wilderness by Pinturicchio, 1480. Public Domain via Wikimedia.