You have probably heard the expression: The apple does not fall far from the tree. It means that children are often like their parents. Scripture does not tell us anything about the parents of the Blessed Virgin Mary. Tradition tells us that their names were Joachim and Ann. The name Ann means "grace," while Joachim means "the Lord will judge." Tradition also says that Joachim and Ann took their daughter to the Temple in Jerusalem when she was very young. They understood that Mary was a special child, so they dedicated her to God.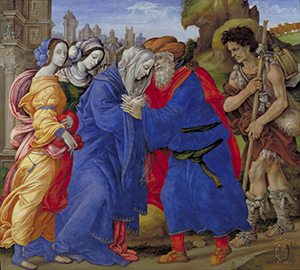 We do know that Joachim and Ann have been honored in the Church from early Christian times. By looking at Mary, their child, we can figure out several things about them. They must have set the example that Mary followed to become the loving, gentle, faith-filled, courageous woman she was—the perfect woman to bear and raise the Son of God.
Whether or not Joachim and Ann are the real names of Mary's parents, the couple were the holy, heroic ones who faithfully prepared for the coming of the Messiah.
Because Joachim and Ann were the grandparents of Jesus, they are the patrons of grandparents. St. Ann is venerated in Canada, where there is a basilica in her honor in Quebec.
---
from Saints Kit
Image credit: The Meeting of Joachim and Anne outside the Golden Gate of Jerusalem by Filippino Lippi, 1497. Public Domain via Wikimedia.