As a boy, John Neumann lived in Bohemia, which is now part of Czech Republic. He studied hard, for he wanted to be a missionary priest in America. By the time he was twenty-four, he had learned six languages and had completed his studies for the priesthood. He was not ordained, however, because his bishop thought there were enough priests in his country. So John Neumann decided to leave for America, hoping to be ordained there. He said goodbye to his parents and brother and sailed for the United States. When he arrived, he had one suit of clothes and one dollar in his pocket. Three weeks later, the bishop of New York ordained him.

Father John's first work was with the German-speaking people in mission parishes near Buffalo, New York. He was not considered very handsome, and some people disliked him and his ways. Priests at that time traveled on horseback and went long distances to care for people in neighboring towns and villages. People laughed at the clumsy way Father John rode. Because he was short, his feet did not reach the stirrups. Children made fun of him. John remained silent, however, and continued going about teaching religion, visiting the sick, and training teachers.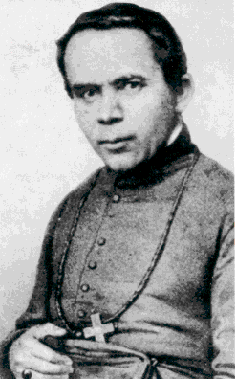 Father John felt the need for community life, so he entered the Redemptorist Order. He was the first Redemptorist to make vows in the United States. He became the superior of the American branch of the order. When Father John was forty-one years old, he became the fourth bishop of Philadelphia. Still, some people did not welcome him. They did not care for his accent and his plain style. Besides these people, John had to deal with an anti-Catholic group that was burning convents and schools. Because John felt he wasn't capable of doing his job, he asked for a smaller diocese, but he was told to stay.

John started Catholic schools in his diocese, for he believed it was very important for children to be educated and taught the ways of Jesus. In eight years Philadelphia's two Catholic schools grew to one hundred schools. John brought many teaching orders to his diocese. He published two catechisms and many articles.

Bishop John Neumann died of a heart attack while he was walking down the street.

Throughout his life, John Neumann went about his work quietly and humbly. No special honors were given him. He was even unpopular. Only after his death did people begin to talk about their humble, good bishop who worked so hard for God.
---
from Saints Kit
Image credit: Saint John Newmann by unknown artist, 19th century. Public Domain via Wikimedia.