In 1805, John Vianney entered a seminary at age 19. After several months of study, he was still not prepared to attend lectures in Latin. He went to live with a friend who was a priest and who tutored him. This priest persuaded the bishop to ordain John not for his learning but for his holiness. After a few years, John was assigned to Ars, a village of about 50 families in France.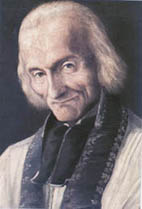 The people were careless about practicing their faith, so they were not happy with this priest who was eager to draw them back to God and Christian living. Some caused trouble by lying about John, by acting violently against him, and by refusing to cooperate with him. They hoped that he would give up and leave. Instead, Father Vianney increased his prayers, fasting, and penances.
Gradually, people came to celebrate the sacraments and listen to his homilies. Within a few years, Father Vianney was spending 10–15 hours a day in the confessional. People from all over France and other countries came to consult him. The government built a railroad line to Ars to accommodate all the pilgrims. Father Vianney just continued his hard, yet simple, way of prayer, fasting, and penance. He was strict with his parishioners but a hundred times more strict with himself. John gave away his furnishings, his belongings, and the gifts of clothes and food that the neighbors brought him. Once he received a black velvet cape as an award and sold it to buy food for those who were poor. He died at age 73. John was canonized in 1925 and is the patron of parish priests.
---
Suggestions
Guide the students to give to the parish priests a card of appreciation that includes prayers they will pray for them.

Have the students think of a person they want to draw to Christ. Let them write a resolution about prayer and sacrifice that they will offer daily for this person.
---
Excerpted from Christ Our Life, by Sisters of Notre Dame of Chardon, Ohio
Image credit: John Vianney by unknown artist, unknown date. Public Domain via Wikimedia.