Lawrence of Brindisi was born in Italy in 1559. After he was ordained a priest, he devoted his life to preaching. He was most attentive to correcting the errors by Reformation preaching. Because he spoke eight languages, he was a popular and powerful preacher in several countries.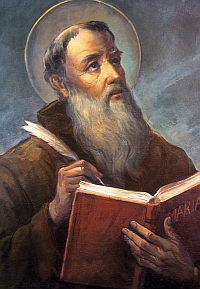 Lawrence became known for his goodness, his simplicity, and his prudence as a teacher. He was especially devoted to the Blessed Virgin. Besides being the superior general of about 9,000 Capuchin friars in Italy, France, Belgium, Spain, and Switzerland, Lawrence had a splendid reputation as a missionary and as a diplomat. In 1959, Pope John XXIII declared him a Doctor of the Church.
---
Suggestions
Discuss ways that the students can help or hinder the spread of truth and love through all their daily conversation, including phone calls and e-mail.

Have the students list the positive qualities of one of their teachers of the past. Then have them write to this teacher, explaining how much they appreciated these positive qualities.
---
Excerpted from Christ Our Life, by Sisters of Notre Dame of Chardon, Ohio
Image credit: San Lorenzo da Brindisi by unknown artist, unknown date. Public Domain via Wikimedia.