To achieve a goal, God sometimes uses a pair of saints—two people who are good friends and support each other as they go about doing God's work. St. Louise de Marillac and St. Vincent de Paul are one such famous pair.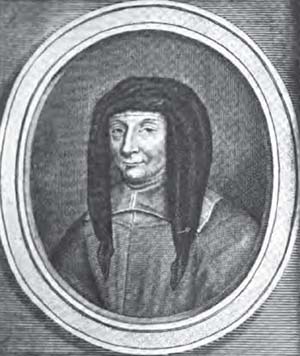 Louise's mother died when Louise was a child, and her father died before she was sixteen. Louise had a good education from Sisters. Soon she was happily married and had a son. Her confessor was St. Vincent de Paul, known for his work of helping the poor.
After a long illness, Louise's husband of twelve years died. Five years later, despite her poor health, Louise began to help with Vincent's charitable projects. Working with the poor required training, and Louise began to take into her home women who wanted to work with the poor and sick. She wrote a rule of life for this community, which became the Sisters of Charity of St. Vincent de Paul. St. Vincent did not envision this group as a religious order. At first the members took no vows at all. Finally, he allowed them to make vows for a year at a time.
Louise and the Sisters worked in homes, a large hospital, an orphanage, and in schools. Louise was self-sacrificing and courageous. She encouraged her Sisters to see Christ in the poor. She and St. Vincent are known as co-founders of the Sisters of Charity. He died six months after St. Louise did.
---
from Saints Kit
Image credit: Louise De Marillac by unknown artist, unknown date. Public Domain via Wikimedia.