Do you remember the parable of the ten bridesmaids who waited for the bridegroom? Only five of them had brought flasks of oil to keep their oil lamps burning. These were permitted to enter the wedding banquet; the others were not. Lucy, whose name means "light" kept the light of her loyal faith burning through the experience of death. Now she is enjoying the eternal wedding banquet.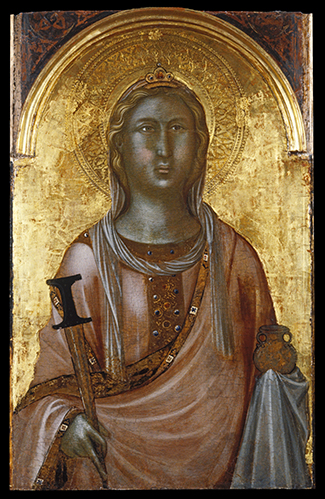 Like many of the early martyrs, little is known about Lucy. She was born in Sicily and died during the persecution of Diocletian. The fact that she is still mentioned in the first Eucharistic Prayer of the Mass shows the great respect that the Church has for her.
One story about Lucy is that she is said to have made a vow to remain unmarried. When the man to whom she was engaged found out, he turned her in as a Christian. She was tortured but remained faithful to Jesus Christ.
Lucy's feast comes during Advent, when we wait for the coming of Christ, the Light of the World. The Scandinavian countries have a special way of celebrating this feast. A young girl is dressed in a white dress and a red sash (as the symbol of martyrdom). She carries palms and wears a crown of candles on her head. In Sweden, girls dressed as Lucy carry rolls and cookies in procession as songs are sung.
A Hungarian custom is to plant wheat in a small pot on St. Lucy's feast. By Christmas green sprouts appear, signs of life coming from death. This symbolizes Lucy's new life, an eternal wedding feast, and ours. The wheat is then carried to the manger scene as the symbol of Christ in the Eucharist.
St. Lucy, pray that we may be the light of the world!
---
from Saints Kit
Image credit: Saint Lucy by Niccolo di Segna, 1340. Public Domain via Wikimedia.