On October 18 we celebrate the feast day of St. Luke. There are only a few certain facts about St. Luke's life. We know him best as the author of the third gospel and of the Acts of the Apostles.
A Greek himself, he wrote the story of Jesus and the Christian community for Gentile readers. He also accompanied St. Paul on some of his journeys and shared in his sufferings. Probably a physician, Luke may have pioneered as an early member of the church at Antioch.
The saint's books reveal something about his character. Luke wrote excellent popular prose with an artist's skill at painting picture stories. Demonstrating an unusual commitment to accuracy, he appears to have fastidiously checked his facts. For example, archaeologists have confirmed many details that he reported in the Acts.
Some of Luke's main themes - prayer, the Holy Spirit, and mercy - suggest that he was a compassionate, spiritual man. He aimed his books to persuade Gentiles that the Christian story was true. So he made it more accessible to them by filing his gospel with accounts of Christ's openness and mercy.
Tradition says Luke lived a long life without marrying and that he died at age eighty-four.
---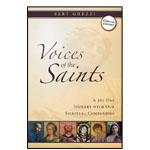 from Voices of the Saints, by Bert Ghezzi
Image credit: Jesus, St Lucas Altarpiece by Pinacoteca di Brera, 1454. Public Domain via Wikimedia.