When Lutgarde was twelve, her parents placed her in the care of the Benedictine sisters at St. Catherine's monastery near Liège, Belgium. The convent allowed visitors, and young men came to court the beautiful young woman. Once when an ardent fellow and Lutgarde were talking, Christ appeared to her.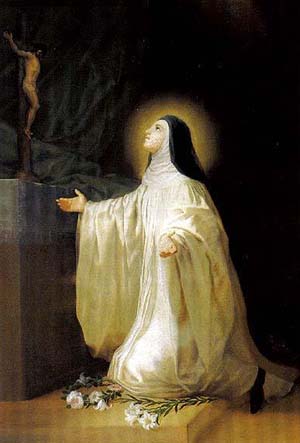 Opening his garment, Christ showed Lutgarde the wound in his side bleeding as if recently opened, and he said to her, "Do not seek any longer the caresses of unseemly love. Contemplate here what you should love and why you should love it. Here, I pledge to you are the delights of total purity, which will follow it." When the confused young man tried to resume their conversation, Lutgarde chased him off. "Get away from me, you fodder of death," she said, "for I have been overtaken by another lover."
St. Lutgarde made unusually rapid progress in the spiritual life. She opened herself fully to Christ in prayer, and he favored her with an intimate experience of his presence. He gave her gifts of healing and of understanding the convent's Latin prayers. But she asked him to take them back because both kept her from focusing on loving him. Then the Lord said to her, "What do you want?" "I want your heart," she said. "No, rather it is your heart that I want," replied the Lord. "So be it, Lord," said Lutgarde, "so long as your heart's love is mingled with mine, and I have and hold my heart in you. For with you as my shield, my heart is secure for all time."
Three times she fasted for periods of seven years, subsisting only on bread and liquids. The saint dedicated each fast for the Lord's purposes: once for Lutgarde of Aywières the conversion of heretics, a second time for the salvation of sinners, and a final time for Emperor Frederick II, who was threatening the church. Before her death she prophesied the latter's demise, which occurred in 1250.
One Sunday after receiving the Body of Christ in the Eucharist, Lutgarde was meditating on her Savior. But she was torn because while she was enjoying her closeness to Christ, she was also feeling weak from hunger and wanted to eat something. So she said, "Lord Jesus, now is not the right time for me to be occupied with your delights. Go instead to Elizabeth, who is so weak that she must be fed every hour. Take possession of her heart, and let me go to take some food to restore my strength."
And that's exactly what happened. Lutgarde got her meal and Christ healed Elizabeth, who was able to resume normal life in the convent. St. Lutgarde spent four decades at Aywières entirely devoted to the heart of Christ. She died in 1246.
---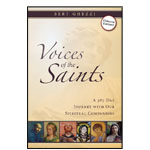 from Voices of the Saints, by Bert Ghezzi
Image credit: Santa Lutgarda by Francisco Goya, 1787. Public Domain via Wikimedia.