One wintry day, young Martin, soldier and catechumen, met a shivering beggar in the street. He cut his cape in two, giving half to the man. That night in a dream St. Martin saw Jesus wearing it and heard him say, "Martin is still only a catechumen, but has covered me with this garment." Stunned, soon afterward Martin presented himself for baptism.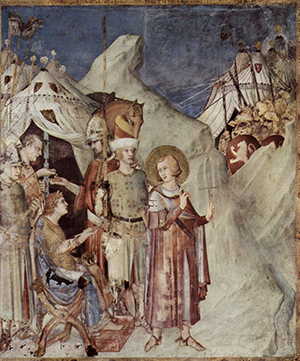 Martin's father, a Roman tribune, had arranged for his son's conscription into the army at age 15. So Martin performed military service until he decided that it contradicted his Christian commitment. Sulpicius Severus, the saint's first biographer, described the day that Martin became the first Christian conscientious objector:
. . . The barbarians were invading the Gallic provinces. Assembling an army at the city of the Vangiones, Emperor Julian prepared to distribute a bonus to his troops. The men were called up in the customary manner, one by one, until Martin's turn came. He recognized that moment as a suitable time to ask for his discharge, and he did not think it would be honest for him to accept the bonus when he did not intend to fight. "I have fought for you up to this point," he said to Caesar. "Now let me fight for God. As for your bonus, let someone who is going to join the battle receive it. I am a soldier of Christ: combat is not permitted me."
Julian exploded with rage and threatened Martin, calling him a coward.
"If my act is set down to cowardice rather than to faith," he said, "I shall stand unarmed tomorrow before our lines. In the name of the Lord Jesus and protected only by the sign of the cross, without shield or helmet, I shall penetrate the enemy's ranks and not be afraid."
The next day, the enemy sent an embassy to sue for peace, handing over themselves and all that was theirs. From this can anyone doubt that the victory was due to the blessed man—a grace granted to prevent his being sent unarmed into combat?
As there was now no war to fight, Martin got his discharge.
Martin was renowned as a miracle worker, performing many cures and even raising a dead man. Once, for example, he healed St. Paulinus of Nola's diseased eye by touching it lightly with a fine paintbrush. Martin died on November 11, 397. Because of his reputation, he became one of the most admired saints of the Middle Ages.
---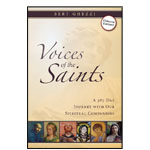 from Voices of the Saints, by Bert Ghezzi
Image credit: St Martin Leaves the Life of Chivalry and Recounces the Army by Simone Martini, 1326. Public Domain via Wikimedia.