As a youth, Paschal Baylon tended his family's sheep. He taught himself to read so that he could pray the Little Office of the Blessed Virgin, the popular prayer book of his day. Paschal disciplined himself to endure the harshness and loneliness of a shepherd's work. And when his sheep trod on others' vines, he scrupulously paid for the damage out of his own meager resources.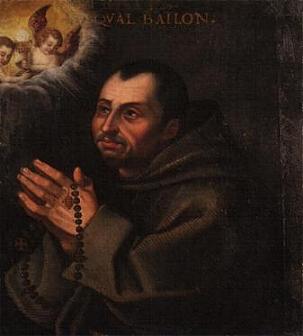 At twenty-one, St. Paschal joined the reformed Franciscans of St. Peter of Alcántara at Loreto. As a lay brother, Paschal for many years served as porter and guestmaster with patience and good humor. John Ximenes, his biographer, reports that he was a model friar, always the first at prayer and never once behaving badly in a relationship. "In no single case," said Ximenes, "do I remember to have noted even the least fault in him, though I lived with him in several of our houses and was his companion on two long journeys."
Like other saintly doorkeepers Brother André and Solanus Casey, Paschal gained a reputation for miracles. For example, Martin Crespo once told how the saint freed him from his determination to take vengeance on his father's murderers:
One Good Friday there was a lifelike representation of the descent from the cross. Along with everyone else in town, I followed the crucifix borne in triumph through the streets. In a last ditch effort to get me to repent, my friends boxed me in and forced me to endure the preacher's address. He concluded his eloquent speech in a pathetic peroration, urging me to forgiveness in memory of our Savior's passion. His fine discourse left me unmoved and cold.
"Quit tormenting me," I exclaimed angrily. "It's no use. I will not forgive them." Brother Paschal, whom I had not noticed before, stepped forward. He took me by the arm and drew me aside. "My son," he said, "have you not just now seen a representation of our Lord's passion?" Then with a glance that penetrated my soul he said: "For the love of Jesus Crucified, my son, forgive them."
"Yes, Father," I replied, hanging my head and weeping. "For the love of God I forgive them with all my heart." I no longer felt the same person. The crowd anxiously awaited the outcome of our mysterious conference. When Paschal announced that I had forgiven my enemies, they burst into applause.
We remember Paschal Baylon most as the "Saint of the Blessed Sacrament." Typically he spent as many hours a day as he could worshiping before the tabernacle. Because of his faithful devotion, the church has named him patron of Eucharistic congresses and conferences. He died in 1592 at the age of fifty-two.
---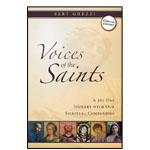 from Voices of the Saints, by Bert Ghezzi
Image credit: Paschal Baylon by unknown artist, unknown date. Public Domain via Wikimedia.