If you have too much to do, with God's help you will find time to do it all.
—Peter Canisius
For a half-century Jesuit Father Peter Canisius led the Catholic Reformation in Austria, Bavaria, and Bohemia. For that reason he is reckoned an apostle to Germany, second only to St. Boniface. With stupendous energy he preached and taught in parishes, reformed and founded universities, wrote many books including popular catechisms, restored lapsed Catholics, converted Protestants, preached retreats, and found time to care for the sick. In his last 30 years traveling more than 20,000 miles on foot or horseback, St. Peter Canisius spearheaded the renewal of the Catholic faith in southern Germany.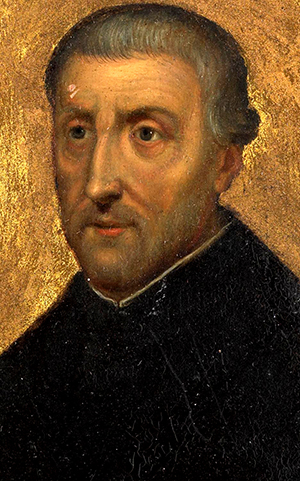 Peter Canisius revitalized Catholic life and teaching at universities in Ingolstadt and Augsburg. He founded new ones at Prague and Fribourg. In all four cities his preaching and catechizing won the hearts of Catholics and attracted nominal Protestants to the church. In Vienna his personal care for plague victims made him a most popular figure.Thus, when appointed diocesan administrator, he was in a position to revive the city's long decadent Catholic community.
After 1555, Peter Canisius published his famous Summary of Christian Doctrine and two smaller catechisms. These books generated the Catholic Reformation as Luther's catechism had spread Protestantism. Canisius's catechisms also helped launch the Catholic press. During the saint's lifetime they were translated into 15 languages and reprinted more than 200 times.
In the late 16th century, when open hostility typified relations between Catholics and Protestants, Peter Canisius advised charity and moderation. He opposed theological debates with Protestant leaders and, in general, discouraged discussion of Catholic distinctives such as indulgences, purgatory, and monastic vows with Protestants. He believed such efforts only heightened division and embittered relations. He articulated his views in this letter to his Jesuit superior:
It is plainly wrong to meet non-Catholics with bitterness or to treat them with discourtesy. For this is nothing else than the reverse of Christ's example because it breaks the bruised reed and quenches the smoking flax. We ought to instruct with meekness those whom heresy has made bitter and suspicious, and has estranged from orthodox Catholics, especially from our fellow Jesuits. Thus, by whole-hearted charity and good will we may win them over to us in the Lord.
Again, it is a mistaken policy to behave in a contentious fashion and to start disputes about matters of belief with argumentative people who are disposed by their very natures to wrangling. Indeed, the fact of their being so constituted is a reason the more why such people should be attracted and won to the simplicity of the faith as much by example as by argument.
In 1591, Peter Canisius suffered a stroke that nearly killed him. But he recovered and devoted himself to writing for six more years until his death in 1597.
---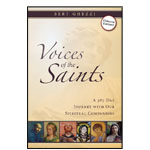 from Voices of the Saints, by Bert Ghezzi
Image credit: Petrus Canisius by unknown artist, 1699. Public Domain via Wikimedia.