Have you ever been really, really thirsty? Maybe you were hiking or mowing the yard on a hot summer day. Maybe you just came in from the playground or off the basketball court. Think how good a drink of cold water would be. If some kind person brought you water, how would you feel? Peter Claver was that sort of person. Peter felt he was called to be a missionary. When he was 29 years old, Peter left his home in Spain and went to Cartagena (in what is now Colombia), South America. There he continued his studies and was ordained a priest.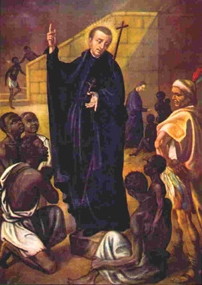 Cartagena was a busy city, but its economic success came from dealing in human misery. Cartagena was the main market for the slave trade in the New World. Hundreds of thousands of people were brought there from Africa, herded into warehouses, and auctioned off to the highest bidder. They had been captured, chained together, crowded onto ships, and neglected during the long journey to South America. The conditions were so terrible that an estimated one-third of the captives died during the journey.
Whenever a ship carrying Africans arrived in port, Peter was there. He would hurry down with a jug of water, and a basket full of medicine, fruit, bread, and clothing. He would greet the slaves by giving them a drink of water. His first concern was to tend to their human needs—to ease their suffering and somehow restore their sense of dignity. He saw the suffering Jesus in the people he served. And he heard in their cry: "What you do for others, you do for me." Peter nursed many back to health and, while they were in warehouses awaiting their sale, he told them that Jesus loved them and gave them the sacraments.
Peter Claver could not eliminate the strong hold that slavery had on society. The hearts and the consciences of many people had been so hardened that they refused to see this evil of slavery in their midst. But Peter did what he could. He tried to be a visible sign that the African slaves were indeed human beings, children of God. By bringing the love of Jesus to them, he was laying the foundations of justice and charity for the future. During his 40 years in Colombia, Peter Claver baptized nearly 300,000 Africans.
A man of deep prayer, unbounded energy, and steady devotion, Peter Claver realized that it was his relationship with Christ that nourished his spirit and gave him the courage to go on when so many problems surrounded his work. When he died the city that had opposed so many of his efforts honored him.
---
Image credit: Saint Peter Claver by unknown artist, unknown date. Public Domain via Wikimedia.