Sometimes we find lives of saints more distressing than encouraging. We read that Saint So-and-So from age three to ninety was always faithful, never doubted, never had a sexual thought, never sinned, and prayed day and night. That kind of story puts sanctity beyond our reach. But the life of Joseph Kalinowski, later as a Carmelite called Raphael, makes holiness possible for us.
By his death in 1907, Raphael was regarded as a great saint throughout Poland and Lithuania. But he progressed slowly on the road to sainthood, drifting away from the faith as a youth and struggling with doubts and hesitations during his gradual conversion.
Joseph began his career as a lieutenant in the Polish corps of engineers. In 1858 he was dispatched to supervise the planning of a trans-Russian railroad. He worked alone, and in his isolation he began to turn to God. "This continuous work on myself," he wrote in 1859, "far away from people, has made a great change in me—for the better. I came to realize the necessity of acquiring certainty in my religious convictions and finally I have turned towards them. I look at life more calmly now and have become indifferent to its pleasures. In my solitude I cultivated the interior life. Here it was that I recognized the great need there is for inalienable religious convictions and at last I made such convictions my own. It was here that I drank deeply of this new life."
Joseph had taken a big step, but he had a distance to go before his conversion was complete. In 1863 he resigned from the corps of engineers to become a leader in the Polish insurgency against Russia. That year he progressed further in his Christian life. "After 10 years of defection," he wrote to a friend, "I returned to the bosom of the Church. I went to confession, and it was so exhilarating." Then in 1864 the Russians arrested Joseph and deported him to Siberia. For nearly nine years he was forced to work in the salt mines. And during that time he advanced significantly in his faith. He wrote the following about his deepening relationship to God and others:
I keep my eyes fixed on Eternity, and from this source I draw constancy in the midst of the confusion of daily life. God empties my heart of all natural attachments, probably to fill it with things more pure, of which nothing surpasses the desire to do good to my neighbor. I like to find at least a few moments each day spent in doing good for others out of love for God. These few moments, almost unnoticeably used, bring something like rays of peace and comfort behind them. They unite us with people and God with purity and sweetness.
Released in 1873, Joseph returned home to Poland. It seemed clear to him that he was called to the monastic life. But characteristically he postponed action until 1877, when he joined the Carmelite order at Graz, Austria. Raphael was ordained a priest in 1882. In his last 25 years he held various leadership positions among the Polish Carmelites. He aimed to renew the spirit of prayer in the community and worked for the reunion of Christians.
---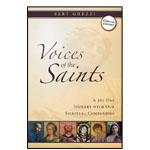 from Voices of the Saints, by Bert Ghezzi
Image credit: Raphael Kalinowski by unknown artist, 20th century. Public Domain via Wikimedia.