It is said that Robert Bellarmine was so short that he used to stand on a stool to be seen over the high pulpits of Europe. But he was a giant in many other ways.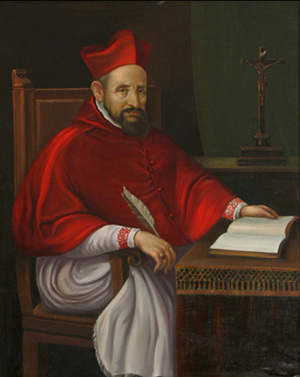 Robert, born in Italy in 1542, was the third of ten children in a family in which prayer and serving others were priorities. He entered the Society of Jesus, the Jesuits, in 1560. Robert was a brilliant student at the Roman College and eventually taught at the University of Louvain in Belgium. His sermons and his defense of the faith were so powerful that people were attracted from all over, and many were converted. Robert was ordained in 1570, became rector at the Roman College in 1592, and was named superior of the Naples province in 1594. By 1598, he was named a cardinal, and in 1602, he became archbishop of Capua. He was called to Rome in 1605 to work in defense of the Church against heresies. Robert, who was advisor to five popes, was involved in many controversies. One involved the teachings of the scientist Galileo, who was also Robert's friend. In 1931, Robert was declared a Doctor of the Church.
Like Saint Robert, let us use all our gifts from God. May we study hard, pray often, and serve others so that the world will see the greatness of our God.
---
Suggestions
Lead the students to discuss the importance of studying their faith to be able to witness more effectively. Let them design posters for some of the main beliefs of the Catholic faith expressed in our creeds.

Have the students write essays on a truth of the faith that has come to mean more to them in the past year.
---
Excerpted from Christ Our Life, by Sisters of Notre Dame of Chardon, Ohio
Image credit: Robert Bellarmine by unknown artist, 16th century. Public Domain via Wikimedia.