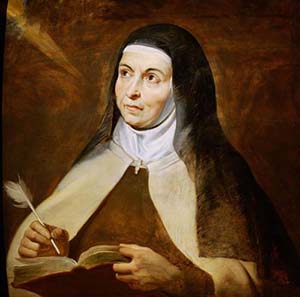 St. Teresa of Ávila was the founder of the Discalced Carmelites, which was a reform movement within the Carmelite Order. In her work of reform, she worked very closely with St. John of the Cross. She wrote several important works, including her autobiography, Life of Teresa of Avila, and her most influential work, The Interior Castle, in which she talks about the mystical life in terms of seven mansions. These mansions show the growth in intimacy between the believer and God. St. Teresa was the first woman ever to be declared a Doctor of the Church (1970).
Enjoy a free excerpt from Amy Welborn's Loyola Kids Book of Saints about St. Teresa of Ávila.
Image credit: St. Teresa of Avila by Peter Paul Rubens, 1615. Public Domain via Wikimedia.
---